Eco drive for FM Conway
By Christian Shelton23 March 2018
UK infrastructure services company FM Conway has announced it is investing £7 million in its vehicle fleet as part of ongoing efforts to lead environmental best practice within the construction sector.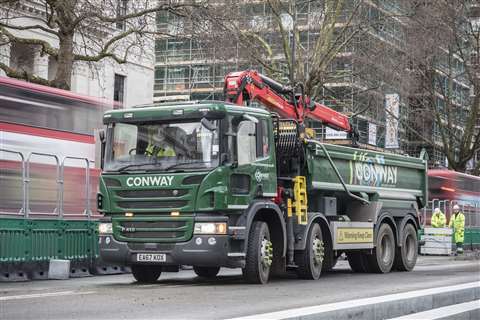 The business has commissioned 25 new HGVs and 136 1.5 tonne, 3.5 tonne and 7.5 tonne vehicles. The new purchases include 60 7.5 tonne vehicles and 17 eight-wheel tippers, which meet Euro Six standards.
FM Conway says the move comes in advance of key environmental proposals being outlined by the Mayor of London, including the extension of the Ultra Low Emissions Zone within the capital.
The addition of the new vehicles, which are due to arrive between Q1 2018 and Q1 2019, will bring the company's liveried fleet to over 900 vehicles. FM Conway says it has now invested over £235 million in its materials manufacturing and logistics infrastructure over the past decade. This has included developing its own network of materials recycling centres as well as ongoing investment in its vehicles to make sure they comply with or exceed the latest environmental standards.
Peter Parle, FM Conway's transport manager, commented, "FM Conway aims to pave the way on best practice for construction logistics. This latest move will ensure that our vehicle fleet continues to meet the highest environmental standards, helping to improve London's air quality and supporting our many construction projects in the capital."