Engcon launches new quick hitch and tiltrotator models
By Leila Steed16 June 2021
Tiltrotator manufacturer Engcon has expanded its product offering with the introduction of its new S40 automatic quick hitch and the launch of an updated tiltrotator.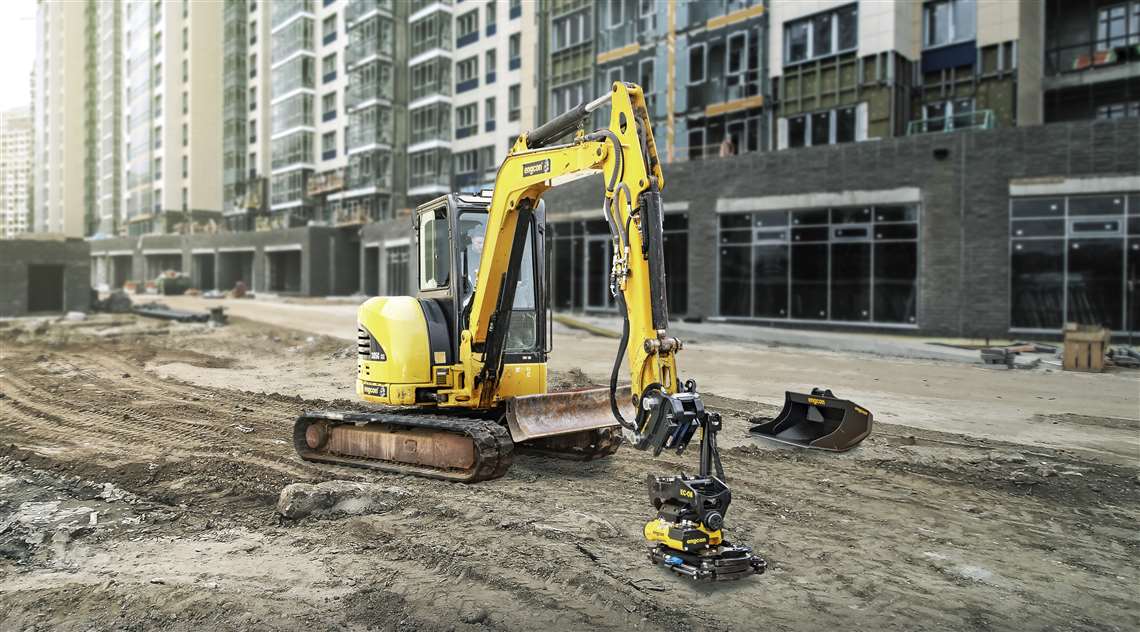 A preferred supplier for John Deere in the US and Canada since April 2021, Engcon presented both models via an online presentation event.
The new S40 is the smallest of the company's quick coupler range, which now covers machines from 2 to 40 tonnes. It allows operators to connect and disconnect tiltrotators and other hydraulic tools without having to leave the cab.
The S40 is designed for use with carriers weighing between 2 and 6 tonnes and features a built-in sensor system to ensure bucket axles are correctly positioned.
According to Engcon, in the event of a problem, the system will alert the operator by triggering an audible alarm and a light signal, both inside the cab and outside the machine.
Fredrik Jonsson, Engcon Group's development manager, said, "Being able to connect hydraulic tools without leaving the cab has recently become an increasing desire even for the smaller machines.
"The problem has been to fit all the smart technology in such small brackets, but we have now solved that in a good way."
Like the manufacturer's existing larger coupler models, the S40 incorporates a four-step safety system.
This comprises electronic sensors for the pins, a check valve on the hydraulic cylinder, exterior springs that keep the coupler locked and a lock bolt design that prevents the hitch from dropping out of position - "even if all three of the preceding steps should fail".
Alongside the S40, Engcon also introduced its updated EC206 tiltrotator.
Suitable for machines weighing between 4 and 6 tonnes, the EC206 now includes a new tilt top that allows drivers to attach and detach the unit without leaving the machine cab.
Engcon said the new tilt top is an adaptation of the company's automatic quick hitch system and that, like the larger tiltrotators, needs ground pressure to open the bucket lock under the tiltrotator on the hitch.
Jonsson said, "It is noticeable that safety around excavators is getting higher and higher on the agenda and especially with the problem of buckets that are dropped due to incorrect handling.
"With our machine hitches/quick hitches and our smart locking system, these problems are minimised."
The company said, "As an option, it is also possible to connect the ground pressure function on the machine hitch and a locking function, which means that the machine's swing function is blocked if the tool is connected incorrectly."
In recent months Engcon has expanded its international presence through a series of deals with a number of OEMs.
In February it partnered with Volvo Construction Equipment to offer factory-installed tiltrotators and hitches on its excavators, and in April Engcon UK announced that it would supply hitches, tiltrotators, control systems and other products to the Scot JCB Group.