Europe's first fully circular energy transition facility underway
By Catrin Jones07 December 2021
Work has begun on Europe's first fully circular energy transition facility located in Ardersier Port, Scotland. The project will repurpose disused oil rigs to make floating offshore wind farm foundations, as well as establishing a €350 million 'green steel' mill and a concrete production plant – these will be powered using resources from the facility.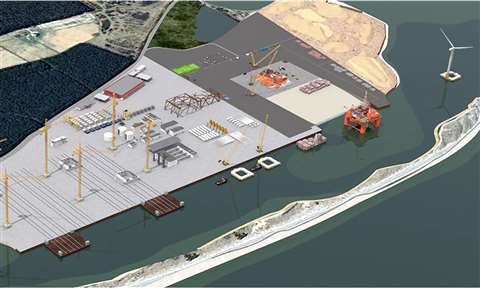 The site marks the UK's largest brownfield port at over 162 hectares and with more than a kilometre of quayside. Under the project's first phase, 2.5 million m3 of sand will be dredged from the site in a nine month operation costing €23.5 million, with the collected sand then used as aggregate in the concrete production plant.
Steve Regan, Ardersier Port owner, said, "The UK has set a world leading net-zero target to build back better, support green jobs, and accelerate our path to net zero. At Ardersier, we can lead the UK's Green Industrial Revolution by using circular economy practices to deliver new, low-carbon infrastructure, built on the by-products of our oil and gas past. This is a once in a generation opportunity to create a world-leading industrial and offshore wind manufacturing facility here in the UK."
Oil and Gas UK (OGUK) commend the project and highlight that recycling and repurposing disused infrastructure from the oil and gas industry will be crucial as we see a spate of decommissioning happening in North Sea projects. A report from the group published last week found that there will be more than a million tonnes of North Sea topsides coming ashore over the next ten years, the majority of which is recyclable.
Joe Leask, OGUK's decommissioning manager, said, "Facilities like Ardersier will play a crucial role in supporting the UK's decommissioning sector and our transition to a low-emission economy."
"The North Sea Transition Deal our industry has signed with the government commits us to help the nation cut its emissions. That will include building thousands more wind turbines, plus facilities for capturing CO2 and producing hydrogen from natural gas – all requiring new offshore infrastructure."