First shredder for McCloskey
Crushing and screening specialist McCloskey International has expanded its mobile solutions with a new product range – shredders. The VTS95 is the first product to makes its debut for the company's new Recycling Division.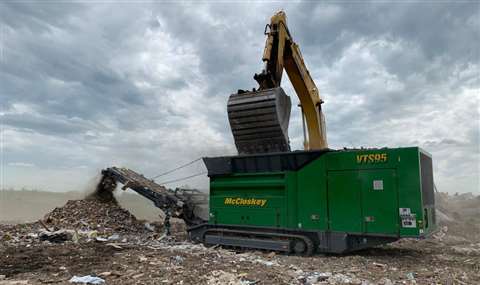 Designed for maximum performance and high productivity, McCloskey says the VTS95 tracked primary shredder is capable of effectively shredding virtually any type of material including solid, industrial, commercial waste and bulk waste.
It is designed to meet the requirements for plants in which the incoming materials vary greatly in terms of size, composition, and difficulty to shred.
The machines have also been designed with the machine operator in mind, with benefits including set up time, ease of operation and minimal maintenance.
"We have a busy year of new product development ahead of us to compile a range of equipment in order to meet our customers' needs," said McCloskey recycling product line manager Fergal Mallon.
"This first addition follows a stringent and strenuous development cycle, which has seen the Shredder tested and prove itself in diverse product applications across the globe.
"We have teamed up with Metso Waste in Denmark. They are experts in static recycling equipment, and we are experts in mobile equipment, and so we see this as an exciting partnership for both companies."