Genie extends new boom family
By Euan Youdale10 March 2020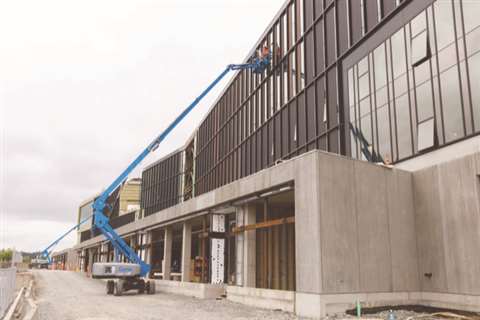 Genie is launching the second boom lift in its new range at ConExpo, which starts today in Las Vegas, US.
The S-80 J is a higher version of the S-60 J, introduced earlier this year. The S-80 J has an unrestricted platform capacity of 660 lb (300 kg) for two occupants, plus tools, and a 6 ft (1.8 m) jib. With a platform height of 80 ft (24.4 m) and horizontal reach of 55 ft (16.8 m), the new boom is designed to provide maximum working capabilities at the top of the envelope.
The model is also lightweight enough at 23,000 lb (10,433 kg) to be equipped with Genie'a 4-point TraX patented track and axle system — the first boom in the 80-ft category to offer a tracked option. The TraX is designed to offer extreme terrainability and lower contact pressure for reduced damage when operating in sensitive ground surfaces, such wet grass, mud, sand and snow, as well as onharder, uneven gravel, rock, concrete or asphalt-based surfaces.
"This second model introduction in the Genie essential performance boom line offers rental companies the opportunity to increase their rental return on invested capital (rROIC) by mixing their fleets with a variety of Genie booms, matching the right boom to the right application," said Sean Larin, Genie manager, Terex AWP.
According to Larin, within a rental fleet, the Genie S-80 J model complements the popular heavy lifting S-85 XC (Xtra Capacity) model, which is well-suited for heavy trades work.
For example, S-80 J man lifts are ideal for general construction, maintenance, insoections and painting. The GS-85 XC are suited for performing heavy-lifting work, like commercial and industrial construction, structural, electrical and plumbing and soeciality applications.
The new boom features 4WD and active oscillating axles, which provides operators with true rough terrain performance, including no axle lock-out during elevated drive, on unfinished jobsites and rough-terrain surfaces. "This model's extremely low 23,000-lb (10,433 kg) machine weight provides low ground pressure for a machine of this class size, and its high ground clearance enables the machine to easily clear rocks, curbs, trailer break-overs and other daily obstacles, getting operators aroundjobsites more efficiently. This model's compact design, low-machine weight and off-set boom stowing position also gives rental companies the flexibility to combine this unit with other machines on a single trailer to maximum savings in transportation costs," says Larin
It is equipped with a 49 hp (37 kw) Kubota D1803 turbo diesel engine, available in Tier 4f or Stage V.