Getting connected: investing in the Middle East's infrastructure
By Richard High17 March 2008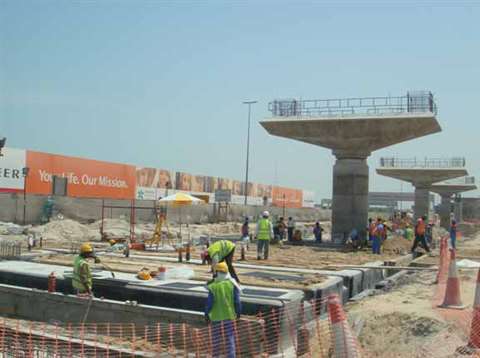 Infrastructure investment is a key driver in the next phase of the Middle East's economic development with airports, roads and rail links all set to play a part. Richard High reports.
With over US$ 1 trillion of real estate projects currently under construction in the Middle East (see iC news, November 2007), getting people into and around the region is the focus of much of the region's current infrastructure investments.
Leading the way, as ever, is Dubai with its new metro system. "Where else would you get two lines, over 70 km of track and 40-plus stations all being built at the same time? In any other country it would be Phase One, followed by Phase Two, and so on," said Paul Abbosh, Atkins' director Dubai Metro Project.
The Dubai Metro's first two lines – Red and Green – are due for completion in 2009 and are estimated to cost AED 15.5 billion (US$ 4.2 billion). They will run underground in the city centre and on elevated viaducts elsewhere.
Operated by Dubai's Road and Transport Authority (RTA), and constructed by the Dubai Rapid Link (DURL) Consortium – Japan's Mitsubishi Heavy Industries, Mitsubishi, Obayashi, Kajima and Turkey's Yapi Merkezi – it will be the longest fully automated rail system in the world.
The Red Line will have 35 stations and run from Jebel Ali Port to the Airport Free Zone. The Green Line, with 22 stations, will run from Dubai Festival City to Dubai International Airport Terminals 1 and 3, and to Rashidiya. Current estimates suggest the two lines will carry 355 million passengers per year, or 1.2 million per day.
The next phase of development will see the Blue Line run along the Emirates Road, while the Purple Line will run along Al Khail Road and act as an express route between Dubai International Airport and the new Dubai World Central International Airport (JXB).
JXB, as one would expect from Dubai, is the largest airport currently under construction in the world. Officially known as Al Maktoum International Airport, after Dubai's late ruler, Sheikh Maktoum bin Rashid Al Maktoum, it is at the core of the 140 km2 Dubai World Central (DWC) urban aviation community.
The facts and figures behind the new US$ 8.1 billion airport are, even by Dubai's standards, quite staggering. A capacity of 150 million passengers and 12 million tonnes of cargo annually, six 4.5 km long parallel runways, separated by a minimum of 800 m, a 92 m high control tower, the highest in the Middle East, and about 100000 car parking spaces.
Built to take the new Airbus A380, construction of the first runway was completed earlier this year and the whole project is expected to be operational by 2017.
Air travel
But Dubai is not the only country expanding its airport. In Doha the US$ 22 billion New Doha International Airport is currently under construction close to Doha International Airport, which itself was expanded in time for the 15th Asian Games last year (see iC November 2006).
The first phase, which started in 2004, should be finished in 2009, when it will be able to accommodate 25 million passengers annually. Upon completion of the final phase in 2015, capacity will have expanded to 50 million.
Bahrain is also investing heavily in its international airport. The US$ 336 million expansion of Bahrain International Airport should be completed in 2010, allowing it to handle up to 15 million passengers a year, up from the present 3 million.
Bahrain is also connecting to its neighbours in more novel ways. Following completion of the then US$ 1.2 billion Bahrain-Saudi Causeway in 1986, work has now started on the 40 km long, US$ 3 billion Bahrain-Qatar causeway. Not only will it allow the free movement of people, it is also designed to bolster economic and business ties between the two countries.
Bahrain is also investing in its road network. In 2004 it announced a US$ 1.5 billion investment plan designed to link the capital Manama with several planned developments around the island (see page 19).
As part of this plan two new highways will be built from the capital Manama to new developments in the south. They will follow the cost on the East and West of the island.
Regional network
With rising population levels increasing the strain on the region's roads many governments besides Dubai are now looking to rail and mass transit systems to take the strain.
Abu Dhabi is investigating an inter-city train network and metro lines to create a transport system under its Plan Abu Dhabi 2030 (see iC news September 2007), which will see its transport network expand to accommodate the expected population growth to 3 million by then. A new network is expected to link Abu Dhabi to the east coast and eventually connect to a proposed GCC (Gulf Cooperation Council) wide railway network.
While no formal plans have been announced, in September 2005, Abu Dhabi's Department of Planning and Economy commissioned a feasibility study on the railway, which would primarily be used to transport containers.
However, according to several government ministers, any future transportation sector development will be dependent, to some extent, on private sector participation.
French train manufacturer Alstom, which is currently bidding for projects in the GCC region, has said the planned US$ 3 billion rail system across the UAE would be 700 km long and connect the Saudi border with Ras Al Khaimah, Abu Dhabi, Fujairah, Ghewaifat, Sharjah and Dubai.
The World Bank is currently helping the GCC by giving technical advice on the larger regional railway network, which will see trains eventually travelling from Kuwait through Saudi Arabia to the UAE and Oman.
Ramiz Al Assar, a senior transport specialist working with the GCC for the World Bank said the cost of building new railway lines in desert conditions at present ranges anywhere from US$ 1 to 2 million per kilometre.
Saudi Arabia plans to build new lines totalling 3770 km, treble the size of its existing network. Similar in size to Western Europe, at present its rail network consists of a 449 km passenger line between Riyadh and the port of Dammam, and a 556 km freight line between the two cities.
The government has now launched a US$ 624 billion investment programme covering the next 15 years to 2020, of which US$ 140 billion is for infrastructure.
The Saudi Landbridge, as its name implies, will create a rail link for the first time between the Arabian Gulf and Red Sea coasts, mainly for container traffic. It will see the construction of a 950 km line from Riyadh to the Red Sea port of Jeddah, and a 120 km line from Dammam north along the Gulf coast to Jubail.
Work started in January on the construction of King Abullah City in Jubail, a US$ 26.6 billion project to build a deep-sea port, a "financial island", and separate zones for industry, education, housing, and tourism.
The Mecca-Medina Rail Link (MMRL) will be a 500 km high-speed passenger railway connecting Jeddah with the two holy cities. Both this and the Landbridge project are being touted as build, operate, transfer (BOT) schemes with Saudi Railways Organisation (SRO) as the executing agency.
The third rail project, the North-South Railway, will be funded publicly by the Saudi Public Investment Fund and Saudi mining company Ma'aden. This is the largest of the three projects and involves construction of 2200 km of lines linking northern Saudi Arabia with the Gulf Coast and Riyadh. This will primarily be a heavy-haul railway to carry phosphates and bauxite.
Outlook
As the region's residential and holiday developments continue to grow so does the need for an efficient transport network Roads, airports, waterways and rail networks are therefore likely to grow over the next few years.
The big question will be whether private finance will be forthcoming, although as the price of oil continues to rise this may not be a problem.