Heavy machinery sales surge at Ritchie Bros. auctions
By D.Ann Shiffler01 July 2021
Ritchie Bros.' Jeroen Rijk said he hasn't seen anything like the surge in equipment pricing in his 25 years working in the industry.
Long lead times on new equipment and increased construction actvity have pushed heavy machinery demand at Ritchie Bros. to unprecedented levels, the company said. During the first quarter of 2021, Ritchie Bros.' website traffic is up 47 percent year over year while bidder registrations are up 49 percent, the company said.
"We currently see price performance of construction equipment at our auctions in Europe averaging 10 to 15 percent higher than a year ago," said Jeroen Rijk, Ritchie Bros. Managing Director EMEA & Latin America."I've never seen anything like this in my 25 years working in the industry."
In addition to market conditions, Ritchie Bros. attributes increased buyer activity to the fact that auctions provide quick access to work-ready equipment. The company said its online Timed Auction system, which has been used exclusively in the EMEA region since March 2020, has made bidding easier and more convenient.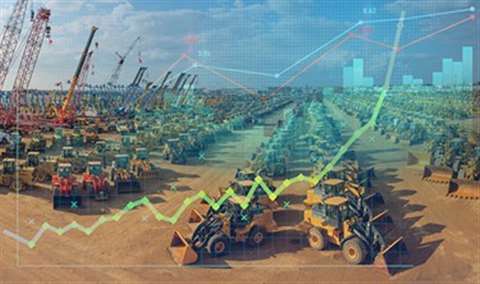 The company recently published two reports about equipment pricing and sales. Download the latest European Ritchie Bros.' Market Insight report (available in 8 languages) or Ritchie Bros.' June 2021 Market Trends Report. A closer look at the data shows:
Hydraulic excavators, a typical machine used in construction and mining, saw median auction prices in Europe rise 23 percent, with an average of EUR 39,858 per item. International competition increased on these diggers, with 12 percent being sold to out-of-country buyers (7 percent same period in 2020). Top buyer countries included The Netherlands, UK, Romania, Poland and Spain.
The median price of wheel loaders sold at Ritchie Bros. auctions in Europe increased 5.6 percent in Q1 (compared to Q1 2020), averaging EUR 25,012 per item. The top buyer countries for wheel loaders were The Netherlands, Germany, Spain, Italy and Poland.
"With our international digital marketing program running at full steam to attract buyers, it's not an exception at our auctions to see young, low-hour items selling at premium price levels," Rijk said. "Not just for our unreserved Timed Auctions, but we also see it with our reserved solution, Marketplace-E. Using advanced data tools, we're keeping a close eye on movements in the market. With pricing being strong, it continues to be extremely favourable for turning any kind of machinery into cash."