Herc Rentals opens downtown Chicago branch
By Lindsey Anderson19 May 2016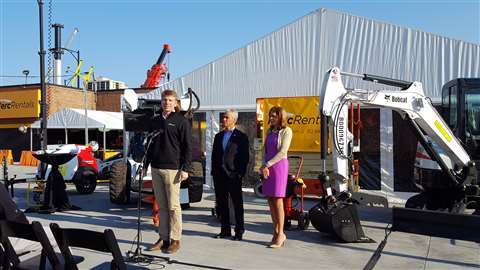 Herc Rentals hosted a grand opening event on May 18-19 at its brand new facility located at 2424 S. Wabash Ave., Chicago. The location is a prototype that focuses on Herc's ProContractor line of tools and rentals.
"We wanted to provide a customer-friendly showroom where people can see and experience hands-on with all of the equipment and tools," said Jessica Kistner, marketing representative for Herc Rentals.
The 27,000-square-foot facility rests on 1.5 acres and holds $12 million in fleet. It is the third Chicagoland branch for Herc and 12 full-time employees currently work at the branch.
Helping with the celebration was Chicago's Mayor, Rahm Emanuel, who said Herc's dedication to Chicago was in direct correlation with the building boom the city is experiencing.
Over the coming years, Herc Rentals will continue to push the ProContractor line across its branches, the company said. Herc Rentals is set to spin-off from its mother company, Hertz, on July 1.