High bred machines: niche producer with global aspirations
By John Wyatt07 March 2008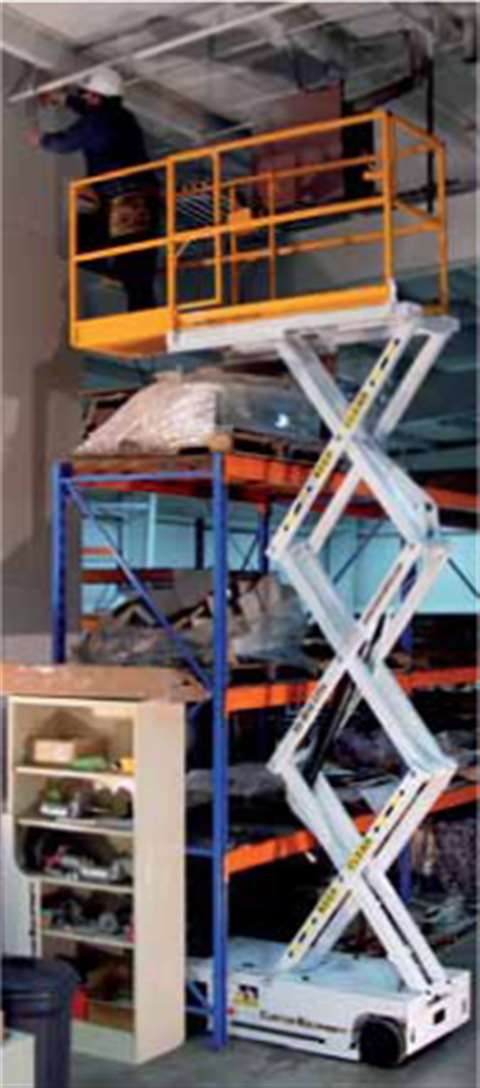 Viewed as a producer of niche, lightweight scissor lifts, Custom Equipment brings in the new year with a new facility and global aspirations.
Despite his broken arm, Steve Kissinger, president and co-owner of Custom Equipment, is in good spirits holiday season 2007. Within the past three months, the company has moved to larger production facilities in Richfield, WI; has announced three major new distributors (including Ahern Rentals); and the company has sealed its footprint for global distribution. It's been a long and good year for the team and Kissinger believes it's just the beginning of his company's gold rush.
Beginning in the late '80s as a producer of scissor lifting equipment for mausoleums, in 2001 Custom Equipment entered the light construction market with its Hy-Brid Scissors. Six years on, the two lines the company manufactures have found acceptance in many rental yards as a key niche product that offers excellent return on investment.
Here and abroad
Everyone from the specialty trades to the drywallers to retail maintenance employ the smaller scissor machine. According to Kissinger, the machine's ease of transport, maneuverability and lengthy duty cycle has made the machine a must for light duty construction. The fact that it can fit between doors and inside elevators has saved many subcontractors a lot of downtime.
Rental yards such as Midwest Aerials & Equipment and AirWorx both have made a point of praising Custom Equipment's Hy-Brid lifts in pages of ALH. Each of these companies have from 50 to 200 units of Hy-Brid machines in their respective fleets and state the units are always on rent. The reason seems pretty simple: A reliable, lightweight machine that can work on light load bearing floors, as well as recently poured concrete floors, allows the subcontractors to move much faster on tighter work schedules. Another important factor to the company's success is its competition is pretty light – at least in terms of scissor lifts.
Its gospel has found its way outside the US now, with machines already working on job sites in Belgium and Japan. Additionally, the company is working out deals with the UK and Australia, as well as Canada.
"We've expanded into the European and Japanese market. We have machines in Belgium and we're working out a deal in the UK. We have 61 [units] already in Japan. We're also working with many other countries: Australia, South Africa and the Middle East over by Dubai and Qatar," says Kissinger. "We haven't marketed in Canada yet. We are just finishing testing for Canadian standards. We have intentions of going in there."
And the time is now for the company to really focus its ambitions and figure out how to meet demand for a global marketplace. The presence of its new facility is a step in the right direction, but will a new facility help serve demands for all these other countries, where the specifications and machines need to be configured accordingly to its countries standards? Kissinger is optimistic.
He says 2007 has been the best yet for the company, as Custom Equipment tripled its sales from the year before. This year, the company expects to double that number. For one, it already has plans for an expansion project to its new facility in Richfield, where Kissinger says the present square footage is approximately 26,000, and yet still retaining its original headquarters as a welding department in West Bend, WI. Furthermore, Custom Equipment may add another shift to increase production. And of course, bring in more manpower. "We're running at 40% capacity. Now we need to boost up sales," Kissinger says.
Its latest dealers announced within the last months of 2007 included Equipment Finders Inc., located in Nashville, TN; Premier Platforms Inc., of Conyers, GA will serve the greater Atlanta rental market; and an important score is Ahern Rentals of Las Vegas, which has already ordered 90 Hy-Brid scissors and a contract that lasts for 12 months (the deal begins in January), will see Custom Equipment's units brought to "all [Ahern Rentals'] stores."
"We're finalizing all the details in the next few weeks. Don Ahern is excited about the product. He has about 90 of them in his fleet already. It went over very well in his area. We're working on finalizing a deal for the next 12 months," says Kissinger.
The company does outsource its painting, favoring the durable powder coat finish that can withstand all types of weather. "Powder coating is the most durable finish you can get. Our machines, after being on the job for three years, still look new when they are pressure washed. They have a real high gloss finish," says Kissinger.
As Dan Tumminello, president with Midwest Aerials & Equipment who owns more than 200 of the supplier's models tells ALH, he likes the Hy-Brid scissors because "the unit has only one hydraulic cylinder and hose. You don't have to worry about the hoses breaking and leaking all over the floor." Tumminello also says most of his Custom Equipment machines have among the best of return on investment.
What's next
With two scissor models already available, what machines are next on the agenda? Kissinger, when pressed, is not forthcoming. Something is on the drawing board he says, and his only comment is that it is new technology. When asked if it could be a higher scissor, he says the company will probably not enter the higher reach machines.
This year, with the new facility in production and another expansion already planned, Kissinger says he hopes to double his number of sale units to 2,000 (1,000 units were sold in 2007). His thoughts are that once the international sales began to grow, his sales ratio would be 70% sales in North America, 30% the rest of the world.