High capacity series launch from Genie
By Euan Youdale14 September 2016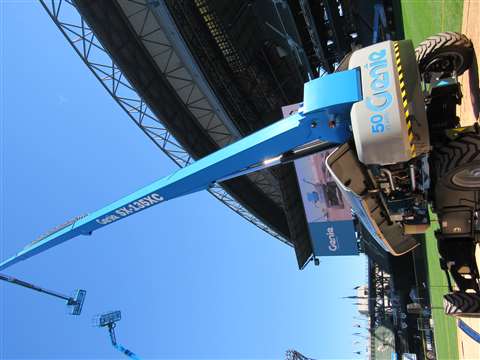 Genie launched a new series of higher capacity boom lifts at its 50th Anniversary Homecoming event, in Seattle, US, last week.
The Xtra Capacity (XR) family is designed to cater for the need for working at height safely with increasingly heavy loads using a single machine.
The new boom also complies with the overload restriction guidelines in the proposed ANSI A92 and CSA B354 industry standards in North America, as well as the current European EN280 and Australian AS 1418.10 standards.
The first in the family to be launched was the Genie SX-135XC telescopic boom. As with the rest of the series it offers a dual lift capacity with an unrestricted 660 lb (300 kg) and a restricted 1,000 lb (454 kg), providing the ability to work with up to three people onboard while still leaving room for tools and jobsite materials. The new XC design includes a standard 8-ft (2.44 m) tri-entry platform with side-swing gate.
The SX-135XC has the ability to work 19 ft 8 in (6 m) below grade and a 12 ft 11 in (3.94 m) x 13 ft 6 in (4.11 m) compact footprint.
"With 10 ft (3 m) more outreach and 32% more capacity than typical self propelled boom of this size," says Adam Hailey, Genie director of product management, Terex AWP, "the Genie SX-135XC boom lift is ideal for rental customers working on challenging jobsite applications with its unique up-and-over style capability to navigate obstacles at height."
Built to safely and quickly lift operators to the full 135 ft (41.15 m) platform height in 2-1/2 minutes and drive enabled at full height, the Genie SX-135XC is designed to position workers and gear exactly where they are needed. Its Deutz TD2.9 L4 74-hp (55 kW) Tier 4/Stage 3B emissions-compliant diesel engine with four-wheel drive and four-wheel steer capabilities, means it is suited to most worksites.
The new machine also offers the manufacturer's new 18 ft (5.48 m) - 30 ft (9.14 m) telescoping Jib-Extend jib, which provides up and over capabilities, as well as 125° of jib articulation, with 55° down to 70° up of vertical articulation. The working envelope is also increased with the boom's extended reach out and down capability — 19 ft 8 in (6 m) of reach below grade.
Designed with transportability in mind, the Genie SX-135XC boom features the new Genie mini XChassis axle design, which extends and retracts the axles to and from the stowed position with a more compact footprint — 8 ft 2 in (2.49 m) x 13 ft 6 in (4.11 m) retracted or 12 ft 11 in (3.94 m) x 13 ft 6 in (4.11 m) extended — to provide both stability on the job and a narrow profile for transport.
"Similar in design to the full-size XChassis expanding axle on the Genie SX-150, SX-180 and ZX-135 booms," says Mr Hailey, "the mini XChassis system boasts two-thirds the footprint of the full-size version for excellent maneuverability on and around confined jobsites without disrupting people or traffic."
Weighing 47,900 lb (21,727 kg), with an overall transport length of 43 ft 7 in (13.3 m), a tail swing of 3 ft 9 in (1.14 m) and ground clearance of 15 in (0.38 m), the Genie SX-135XC boom lift is transportable on a standard trailer; no over width or over height permits are required.
To increase performance, decrease set-up time and improve the overall productivity, all Genie XC models boast the ability to do zero-load field calibration. An updated CAN-based control system on most of the new Genie XC models brings the familiar SmartLink.