Hilti adds to combination hammer range
By Belinda Smart15 December 2020
Hilti has expanded its rotary and combination hammer tool range with the release of the TE 70-ATC/AVR, SDS-Max combination hammer.
Newly released to the North American market and launched earlier this year in Europe, the SDS-Max combination hammer includes safety features such as Hilti's Active Torque Control (ATC) technology, which stops the tool body from spinning uncontrollably if the drill bit jams.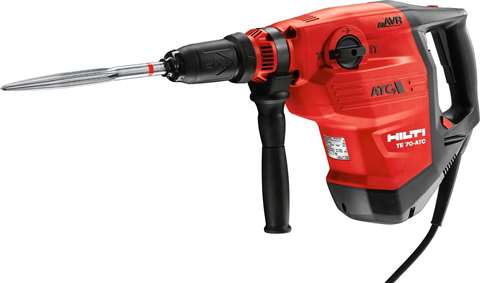 "We know how powerful Hilti tools are so, as we continue to deliver solutions to our customers, safety and productivity remain top of mind," said Eric Hollister, Senior Director of Electric Tools & Accessories at Hilti North America.
The TE 70-ATC/AVR, SDS-Max combination hammer is also equipped with Hilti's Active Vibration Reduction (AVR).
"The tool provides users with the lowest vibration in its class while maintaining best-in-class performance. This will reduce the risk of potential injury during application and help increase daily productivity," said Hollister.
The hammer is designed for use with Hilti's TE-YX bits and new TE-YPX flat and pointed chisels. The wave design, polygon construction, and self-sharpening technology of the TE-YPX (SDS Max) chisels offer high break resistance, minimal sticking or jamming, resulting in less requirement to sharpen or change broken chisels.
It also comes with a universal detachable power cord that fits eight other Hilti tools. Also included is a brushless motor, designed to increase the tool's life and performance.
The TE 70-ATC/AVR, SDS-Max combination hammer is supported by Hilti Tool Fleet Management and a warranty offering 20 years of repair or replacement of defective parts; two years no cost repair including wear and tear; and a guaranteed one-day in and out of repair centre.