Hitachi just the job for Gustav
By Joe Malone24 August 2017
Danish rental company Gustav HC has invested in a new Hitachi ZX225USLC-6 excavator, adding to its Hitachi construction machinery offerings.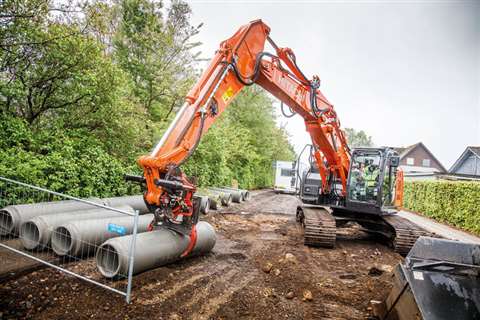 The company, which is based in Herning, also boasts Hitachi's ZX225USLC-3, ZX140W-3 and ZX18-3 excavators, which are primed for confined spaces.
The model has a two-piece boom that allows the operator to work closely in the area immediately in front of the machine. It is also combined with a tilt rotator.
The four Hitachi machines are primarily rented out to local contractor Sunds Entreprenør ApS, for 70% of the year. It specialises in drainage, earthmoving, demolition and foundation work.
Gustav Christensen, owner, Gustav HC, said, "We continue to buy Hitachi construction machinery due to the speed and overall performance of our current and previous Zaxis excavators, as well as the quality of the hydraulic systems.
"They are also completely reliable – they never break down – and we enjoy the low cost of ownership. In addition, HPE consistently provides us with the best possible solutions and each new machine is delivered to the exact specification we require."