Hybrid debut from Versalift
By Euan Youdale12 September 2018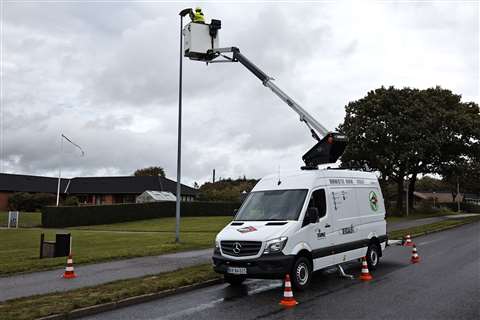 Versalift is launching the first hybrid version of its Versalift VTL series at Platformers' Days in Hohenroda, Germany, this week.
Versalift introduced the VTL (Versalift Telescopic Light) series earlier this year and production is up and running on. Among other innovations, the VTL features shaped, ultra-high strength steel booms and a vastly improved overturning moment for optimal structural strength and performance.
A spokesperson for the company said, "As European cities implement increasingly strict environmental regulations limiting the use of vehicle-mounted platforms in cities, the access industry experiences an increased demand for hybrid and full electric platform vehicles".
Acknowledging this demand, Versalift is introducing the VTL with hybrid drive. It will appear on the Ruthmann stand at Platformers' Days, taking place 14-15 September. The VTL-145-F hybrid is mounted on a 3.5 tonne Mercedes-Benz Sprinter van with a working height of 14.6m, a load-dependent outreach of up to 8.6m and a bucket capacity of 230kg. The vehicle is powered by its conventional diesel engine, while the hybrid platform is powered either by the vehicle's engine via PTO or by 100% electric drive using an electric motor, a separate hydraulic pump and an on-board Lithium-ion battery pack.
Using the electric option, the platform is capable of operating with the vehicle's engine turned off for clean and silent operation. The battery pack has a capacity of a full day's use, recharges in overnight on in approximately four hours, and leaves plenty of leftover payload for tools, equipment and van interior.