Interview: Craig Paylor
By Lindsey Anderson28 May 2020
It was early April when Craig Paylor and I connected for a chat about LGMG North America. Like most conversations these days, our talk started out with reflections on the Covid-19 outbreak; we both had been working from our homes for a few weeks at that point.
Paylor, LGMG North America's CEO, and the former president of JLG, said Covid-19 has impacted every aspect of business and life – from the slowdown of visitors at ConExpo to the struggle all Americans faced: getting groceries.
"This is going to be one of those things you tell your grandkids about," he said. "Hopefully nothing like this happens again; it shows how vulnerable the whole nation is."
Beginnings
LGMG North America's parent company is China-based LGMG, a large construction equipment manufacturer that was founded in 1972. Over the last three years, LGMG's access division has aggressively expanded across the world, first diving into the European market and, just two years ago, opening in the U.S.
Based in Chambersburg, PA, LGMG North America is led by Paylor and a veteran team of rental and access professionals. The company first introduced 13 scissor lifts into the N.A. market and has since debuted rough-terrain scissors and telescopic and articulating booms. The latest debut was its A45JE articulating, electric boom, which visitors at ConExpo were able to see.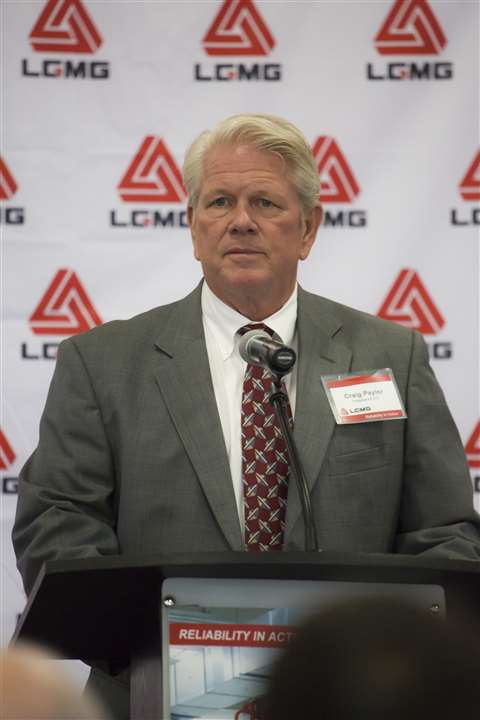 Paylor, who oversaw JLG grow from $30 million to $3.1 billion during his 30 years at the company, is clearly no stranger to the access market in the U.S., and, specifically, what works and what doesn't when establishing a brand here.
"I spoke with our parent company and said, 'Look, it's easy to invest money into North America and if you make a product that's good and the pricing is good, you'll see strong numbers,'" he says. "But you can't come into the market without distribution. Nobody knows our name, nobody knows our product, nobody knows who we are."
Paylor and his team then set out to put the pieces in place, setting up distribution, parts and service centers, and targeting their core buyers: independent rental companies.
The price is right
LGMG NA differentiates itself and appeals to independents due to its set pricing. Whether a customer purchases one or 100 scissor lifts, the cost is the same down the line. Paylor has worked to streamline pricing and marketing those efforts; "There's no big price list with 17 different categories," he says. "And I don't want to mess around with a whole bunch of options." For example, Paylor notes, a potential customer was asking him about the cost of LGMG NA's 60-foot boom. When given the price, the customer asked what it would be if he added four-wheel drive.
"I told him, 'It's standard,'" Paylor says, noting that roughly 75 to 80 percent of machines are ordered in a certain configuration, so keeping options limited and features standard help prices align.
LGMG NA has a parts store in Tennessee, and the company's first major warehouse – a 60,000-square-foot building – opened in Chambersburg, PA. A facility in Houston is available for machines to be serviced near Texas and Louisiana, and LGMG NA has just leased a building in Southern California to receive imported machines.
"I don't want to stand around and worry about trading machines from the East or West Coast," Paylor says. "Everything is coming from China, so it's just a matter of where the machines need to come in to."
Much of LGMG NA's stock has been sold, and at the time of speaking with Paylor, no order cancellations had been made. "We've had a few pushbacks of a customer saying they would take delivery a month later, but no cancellations."
LGMG North America's next plan is to expand into Canada while keeping its sights on U.S. market opportunities. "LGMG wants to be a major player," Paylor says. "They're willing to put their money into being a major player. They have a management group that is sincerely wanting to build quality products, and that's the only way I could get back into this business was to be with a group that took it seriously and wanted to do it the right way."
Paylor believes LGMG NA will continue to be a strong option in the North American market, even as more Chinese manufacturers set out to have a piece of what is the world's largest access industry pie.
"There's four or five different companies in China getting ready to play in this aerial market," Paylor says. "This market continues to grow and it's going to continue to grow."
For example, LiuGong announced in February it was entering the U.S. scissor lift market, starting with two new products. Paylor predicts other entrants will include XCMG, Sinoboom and Zoomlion.
"Some of these companies will definitely try to come in because they already build some other kinds of products that they're already selling in North America," he says.
At ConExpo, Chinese OEMs Dingli, LGMG, Sinoboom, Sunward, Sinoboom, XCMG and Zoomlion all had stands.
Dingli is already established in North America due to its partnership with MEC Aerial Work Platforms; the Chinese manufacturer acquired a 20 percent stake in MEC, which has been selling Dingli scissors in the market.
Others are less established in the market, thus far. Sinoboom is making a move into North America and is in search of a partner based in the U.S. Charlie Li, regional manager in North America at Sinoboom, says the company has major ambitions and in five years' time would like to be one of the largest OEMs in N.A.
It is no secret that China's access market is growing rapidly, meaning more players wanting to export their products to the United States and possibly forge relationships with Western companies. At the 2019 IRC Conference in Shanghai, Zhang Tan Na, president of the rental branch at China Construction Industry Association, said that China's MEWP sector will reach equal maturity to markets in Europe and North America in the next five to eight years.
"The benefits of aerial platforms have been recognised and adopted by contractors in China, and in the context of a marginal decline in the construction market, the sales volume of platforms not only did not decline, but have actually grown rapidly," Zhang noted.
It's a trend we've spoken about for years but will likely see come to fruition soon.