JCB hits new sales record
By Leila Steed03 September 2019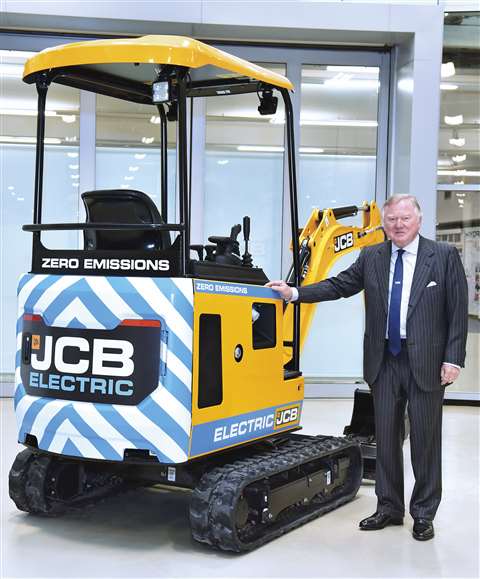 JCB has set new records for its turnover, machine sales and earnings in 2018.
The UK-based firm revealed that its sales turnover in 2018 rose by 22% to £4.1 billion (€4.4 billion) from £3.3 billion (€3.6 billion) in 2017.
Company machine sales across construction and agriculture also increased this year to 96,246 from 75,693 in 2017.
The business' earnings on an EBITDA (earnings before interest, taxes, depreciation and amortisation) basis rose 31% from £341 million (€371 million) in 2017 to £447 million (€486 million).
The company said that global markets for construction equipment and agricultural machinery had remained strong in 2018, growing by 18%.
Graeme Macdonald, JCB CEO, said, "JCB outpaced this [18%] growth by increasing its sales revenue by 22% last year, which was a very significant achievement. However, this growth has now stalled, with many markets softening this year, particularly the Middle East, Turkey, Latin America and India."
While JCB said it was sounding a note of caution with regards to market growth, the company is continuing to expand its production and product range.
Lord Bamford, JCB Chairman, said, "Recent product launches, especially JCB's electric mini excavator, puts the company in a strong position to tap into a growing demand for zero-emissions or ultra-low emissions equipment in the construction industry."
JCB is currently investing £65 million (€70 million) in a new factory in Gujarat in India, which remained the company's largest market in 2018. This year sees JCB India celebrate its 40th anniversary and with JCB's 75th anniversary next year, the manufacturer has also invested a further £50 million (€54 million) in a new factory in Staffordshire, UK.
Macdonald said, "We continue to make strategic investments in new product development and new manufacturing capacity to ensure JCB is ready to capitalise on future long-term growth opportunities."