JCB starts production of site dumpers
By Joe Malone23 January 2018
JCB has begun production of its new range of site dumpers, after announcing last year it would manufacture its own.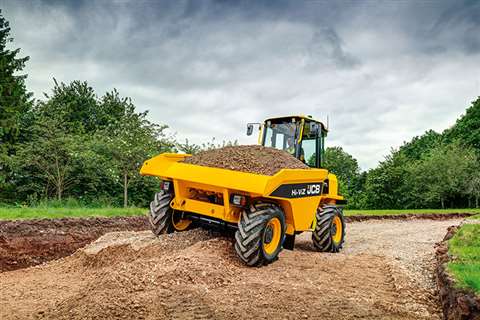 The company previously had a third-party agreement with Terex, which it began in 2015. However, following Mecalac's takeover of Terex's Coventry location – where Terex produced the site dumpers – JCB is now producing its own models.
The range being produced includes the 7 tonne JCB 7T-1 Front Tip Hi-Viz model, which has a reduced skip height to increase visibility and a longer wheelbase and lower centre of gravity for extra stability.
JCB said the design addressed industry concerns over accidents and serious injuries involving site dumpers on construction sites.
The model is part of a range of eight other site dumpers in the 1 to 9 tonne sizes. The biggest market for the machines will be the UK and Ireland, followed by France.
Operator protection is assured through a ROPS/FOPS Level II JCB SITESAFE cab, which incorporates an integrated protection system, potentially allowing the operator to remain in the cab while being loaded.
JCB Site Dumper managing director Richard Butler, said, "We are delighted that manufacturing is underway in the UK for a brand new range of JCB site dumpers, which will bring new levels of safety to the market through innovation.
"Reaction to the launch of this new range has been exceptional and customers can look forward to seeing the seven and three tonne models on the JCB stand at the Executive Hire Show in February."