Kemppi unveils Miniarc Evo 180 small welder
By Sarah McCay19 October 2014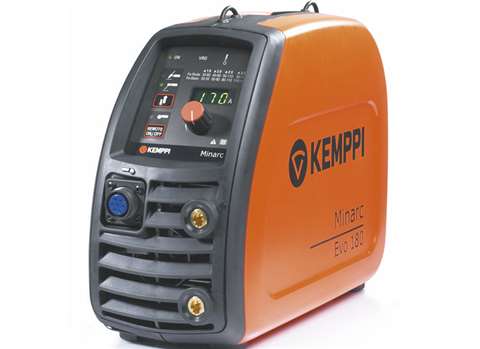 Kemppi has upgraded is Minarc Evo small welding equipment range.
The UK-based welding technology manufacturer has added the Minarc Evo 180, which it said delivered more welding power than its predecessor, the Minarc Evo 150.
It said the New Minarc Evo 180 provided enough power for MMA maintenance welding, even where 4 mm electrodes were required. The portable 5.8 kg machine delivered 170 amps maximum output current for MMA welding at 30% duty cycle and 180 amps for DC TIG welding at 35% duty cycle.
When fitted with a 10-amp power supply plug, Kemppi said the Minarc Evo 180 could deliver 140 amps MMA welding power at 28% duty cycle.
It added that the Minarc Evo 180 also included power factor correction (PFC) technology, allowing for energy efficiency and maximum welding power in any 1-phase, 230-volt,16 A or 10 A industrial power network.
It could also be used with generator power supply, even with extra-long extension cables more than 100 m long.