Komatsu rebrands mining products
By Jenny Lescohier01 September 2020
Komatsu has announced plans to rebrand its underground hard rock equipment, surface wheel loaders and new line of blasthole drills in a play to focus on growth in what it characterizes as its rapidly evolving mining product offerings.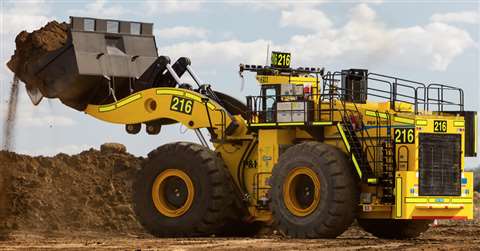 The company will retain its P&H and Joy brands for the products longest associated with those names: P&H for its electric rope shovels, hybrid shovels, draglines and 320XPC blasthole drill; Joy for longwall systems, and room and pillar equipment.
Rebranding as Komatsu all surface wheel loaders, new blasthole drills and all underground hard rock equipment, expands the Komatsu brand in mining, while retaining the legacies of its other brands, said Jeffrey Dawes, president and CEO of Komatsu Mining.
The first rebranded product, the Komatsu ZT44 track drill, made its debut at CONEXPO-CON/AGG 2020 in Las Vegas this March.
"Building on the growth of our mining portfolio, we're excited to unite more products under the Komatsu brand, while respecting the history and value of the P&H and Joy brands," Dawes said. "As we approach Komatsu's 100th anniversary, it's a great moment to expand the brand in mining and celebrate the growth of these product lines."
In May, Komatsu reported a 12.6% fall in revenues for the fourth quarter of 2020 to Yen 617.4 million, with a 52% reduction in profits to Yen 44.4 billion.
The impact of the Covid-19 pandemic was felt in North America – the single biggest market for Komatsu's construction, mining and utility equipment – where sales for the three months to 31 March were down 16%. Full year sales of construction, mining and utility equipment were down 10.8% to Yen 2211 billion, with profits 37.8% lower at Yen 227 billion.