Large Liebherrs for Van Schaften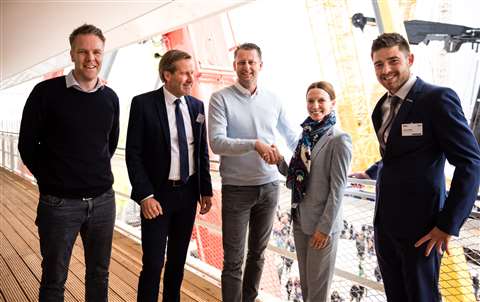 Van Schaften Leasing has ordered three 1,000 tonne capacity lattice boom crawler cranes from Liebherr.
The addition brings the Dutch crane rental company's fleet to eight units of this model, making it the largest fleet of LR 11000 cranes in the world, Liebherr said.
Wind turbine erection is the target market for the newly expanded fleet and Van Schaften said it is expecting a steady flow of orders from the wind power industry. With this in mind the new cranes will have the new F2 fixed lattice jib developed for the erection of wind turbines.
It can be used with the main boom system even without a derrick so transport costs and set-up times are reduced. At 250 tonnes the capacity of the F2 is a big increase over the 179 tonnes of the standard jib. It has two parallel winches which means more hoisting speed and it has a runner. A derrick system can be added at a later date to allow heavier turbine components to be lifted higher.
Owner Johan van Schaften explained his choice of crane, "The LR 11000 has outstanding lifting capacities and is perfect for wind turbines on 100 metre towers with its F2 system without a derrick. Its high performance and low cost transport make it absolutely unique on the market."