Large lifts for ESEASA in Mexico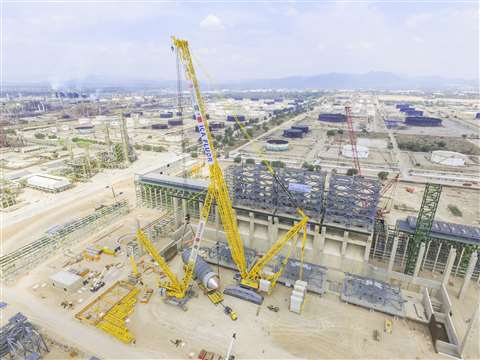 Mexican crane contractor ESEASA used Liebherr's largest crawler crane, among others, for a refinery upgrade project at Tula.
ESEASA worked for construction contractor ICA Fluor at the Miguel Hidalgo oil refinery, owned by state oil company Pemex. Largest of the three cranes on site for the job was the 3,000 tonne capacity LR 13000 lattice boom crawler crane, followed by a 1,350 tonne capacity LR 11350. Their task was to lift in six large tanks, each of which weighed more that 600 tonnes.
The 620 tonne units had to be hoisted to a height of 124 metres at a 54 m radius. To do this the LR 13000 was configured with 132 m main boom, including PowerBoom, superlift derrick boom, and 1,725 tonnes of ballast. The LR 11350 helped in tandem with the larger crane to upend the tanks. A 100 tonne capacity LTR 1100 telescopic boom crawler crane was used to remove the transport frames after the tanks had been positioned.
The tanks were produced in Spain and transported from there by ship, arriving at Altamira in northern Mexico. From there ESEASA transported them nearly 1,000 km through six states to Tula. Work was needed to bridges, overhead cables, toll booths and signs to allow the tanks to pass.
The work at the Miguel Hidalgo refinery is is due to be finished by the end of 2018.
In addition to the cranes used above, Mexico City-based ESEASA's fleet includes two 1,200 tonne capacity LTR 11200 telescopic crawlers and five 1,200 tonne capaity wheeled mobile LTM 11200-9.1s. The company's focus is on the energy sector and it specialises in engineering, logistics and crane assembly for large projects in Central America and the USA.