Looking up for rough terrain cranes
By Alex Dahm21 March 2017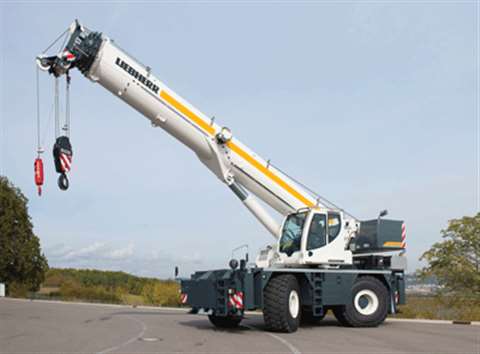 Unlike the wider geographic appeal of all terrain cranes, rough terrain (RT) cranes have a more region-focused market, namely North America, the Middle East and Japan. RTs are commonly used in applications from general construction, material handling, steel erection and low-rise apartment construction to refinery and mining refurbishment and maintenance.
At a Liebherr press event in October, the world's largest crane manufacturer spoke about its decision 20 years ago to cease all RT crane production and to focus on other crane markets to build its business. Over the last few years, the company says that there has been an "insistent appeal from customers to re-enter the rough terrain crane business." It prompted serious discussion about investing in a new line of RT cranes.
Discussions began after the 2013 Bauma exhibition in Munich, Germany. Three-and-a-half years later Liebherr has announced two new RTs – the LRT 1090-2.1 and the LRT 1100-2.1. Launch will be at the ConExpo construction equipment exhibition in Las Vegas, USA, in early March 2017.
Dr Ulrich Hamme, Liebherr-Werk Ehingen managing director, construction and development, says, "The new LRT cranes stand for safe, simple, powerful and economical. These two crane types should meet all requirements on RT cranes in their class; from off-road pick and carry RT cranes, up to flexible industrial cranes in large industrial plants."
The 100 tonne version (LRT 1100-2.1) has a 50 metre telescopic boom with a simple 'Telematik' telescoping system. A 14 tonne counterweight is used to provide high stability. Lifting capacity of the larger LRT crane is approximately 15 percent greater than that of the 90 tonne version, the company says.
The 90 tonne capacity LRT 1090-2.1 has a 47 m telescopic boom with a two-stage hydraulic cylinder and mechanical rope extension. As in the 100 tonne version, boom extension can be preselected easily, based on two different telescope paths on the main boom. A total of 12 tonnes of counterweight is located on the turntable.
New elsewhere
Other new additions to the market include the Terex RT90, unveiled at April's 2016 Bauma exhibition in Germany. The new 90 tonne capacity model has the IC-1 control system that offers "unprecedented capabilities in a rough terrain crane" and uses high strength steel to achieve great performance while reducing weight, the company said.
Suresh Natarajan, Terex Cranes director of rough terrain product management, says, "The five section, full power boom of the crane stretches 47 metres for long reach applications. Its four steering modes and capability for a wide range of outrigger positions, make this model versatile for a variety of job sites.
"By using proven standard components and by incorporating lessons learnt from the past, the design has focused sharply on reliability."
For Terex, the RT90 includes two wheel steer, four wheel steer and crab steer. Independent rear axle steering is available on selected models. Natarajan added, "The most popular capacity is the over 66 tonne class, giving sufficient capacity for a multitude of jobs but also allowing for setup and operation with a single operator. We do see a trend in capacities increasing for rough terrains.
"RT90 is the first model of a new family of RT cranes from Terex. This family will address the needs of our customers in many capacity classes."
Italy-based manufacturer Locatelli specializes in producing RT cranes. The company describes its line as "strong, reliable and manoeuvrable", ranging from 12.5 to 80 tonnes capacity. A representative of the company says, "Our cranes have 360-degree visibility for lifting, telescopic boom and wheels that provide the best performances in rough terrain areas. The RTs are suitable for workplaces like important road networks, waterworks, electrical networks and public work. The cranes are also easily manoeuvrable for shipyards and industrial applications."
Locatelli is launching 'light duty', 'medium duty' and 'heavy duty' versions of its RTs so it can meet all application needs. It will also be revealing a new range in 2017 with new designs, higher performances, customised solutions and updated safety equipment.
China-based manufacturer Zoomlion is launching a new generation of ZRT series rough terrains: the ZRT500, ZRT700 and ZRT900. Ken Zhou, Zoomlion product manager, mobile cranes, says, "To respond to customer requirements for versatility, durability and cost performance of products, the Zoomlion rough terrain crane series apply the modular design extensively.
"Due to the booming commercial and highway construction business, the most popular models are the 35 tonne capacity RT35 and the 60 tonne capacity RT60."
The company says that buyers are beginning to pay more attention to the operating cost of the equipment so it is necessary to provide a more efficient crane with lower maintenance and cost.
Zhou continues, "We will soon carry out the scale-production of the new product ZRT900, which has stronger lifting performance, larger telescopic length of main boom and adapts to the desert region in the Middle East."
*BOX OUT*
Rough terrain crane market
A new report from Off-Highway Research, The Global Mobile Crane Industry provides new insight and forecasts for the worldwide industry.
In the rough terrain crane segment, the important territories are Japan and North America. The North American market peaked in 2012 and has fallen away since then. However, the Japanese market continued to grow in 2015 and is expected to stabilise at high levels. The sweet spot of these two trends came in 2014, when global rough terrain crane sales hit 5,134 units, with 71 per cent of these sold in North America and Japan.
Historically, there have also been significant emerging economy markets for RTs, particularly Latin America and the Middle East. The downturn in global commodity prices, which has hit many of the economies in these regions, has also had an impact on the RT market from 2015 onwards. With the Japanese market accounting for more than 50 percent of global RT demand in unit terms, and this market remaining buoyant, the overall impact of an emerging market downturn has been limited.
Having said this, various non-tariff barriers to entry mean it is only Japanese manufacturers that benefit from a surge in demand for RT cranes in Japan, with Kato Works and Tadano producing virtually all the machines sold in the country. RT models in the RK series from Japanese manufacturer Kobelco are destined only for sale in the domestic market.
For other manufacturers relying on North America, the emerging economies and what demand there is in Europe, the available market has fallen from 3,260 cranes in 2012 to 2,136 units in 2015, which is a 34 % decline.
The forecast for 2016 is for a further slump of 21 %, taking sales to 1,694 units – almost half what they were four years ago.
Off-Highway Research's new 250-page report includes a global overview of the all terrain, lattice boom crawler, rough terrain and truck crane markets. For more information see: www.offhighway.co.uk