MB takes crushing to the Caribbean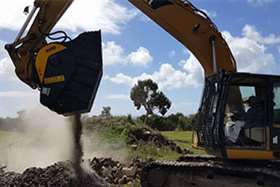 A crusher bucket and screening bucket from MB Crusher are working on the island of Nevis – part of St Kitts and Nevis – on an important redevelopment and heritage project.
Installed on a 320L Caterpillar excavator, the MB-S18 screening bucket is used to separate soil from leaves and brushwood.
The resulting material is re-used on the spot to rehabilitate green areas of the island.
The BF90.3 crusher bucket, on the other hand, is used to crushing the local stone, Nevis Stone, a type of very hard granite of volcanic origin.
After crushing, the rock is used to fill the excavated areas generated for the construction of the buildings, and to make the foundations of the new local road network.