Magni RTH units assist with NY project
By Lindsey Anderson21 July 2020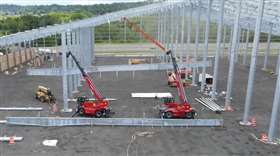 Carver Construction has called on Magni Telescopic Handlers to provide a solution for a job in Albany, NY. The project involved constructing a 180,000-square-foot Nucor pre-engineered steel structure that will eventually be used to store salt. The structure is 400-feet-wide, 450-feet-long and 74-feet-tall at its peak.
When Carver first began planning the project, the company said it was concerned about lifting 11,000-pound steel rafter beams to 74 feet. In the past, on similar projects, Carver would bring in a crane. After talking to Magni dealer Walter S. Pratt and Sons Inc., Carver decided that using a Magni RTH 8.25 SH rotating telehandler would be a better option. The model RTH 8.25 SH has a maximum lifting capacity of 17,600 pounds and lifting height of 81 feet.
According to Joseph Navarro, general manager of construction for Carver, Magni Rotating Telehandlers provided a better solution than the typical cranes they would turn to for this type of project. "A huge benefit of the Magni is safety, which is our number one priority," Navarro said. "The machines have built-in features which raise the bar in terms of safety.
"Additionally, the Magnis are a very versatile piece of equipment, it's kind of like the multi-tool of construction equipment and so we've been able to increase our efficiency on site because of it. Having the Magnis on site affords us the opportunity to use single machine for multiple tasks."
Navarro continued, "When the machines were delivered to the jobsite by our dealer, Walter Pratt, they provided about two hours of training to our operators. It was a great investment of our time and since then those operators have been able to safely and efficiently operate the equipment.
"I would absolutely recommend Magni machines to other companies. The machines themselves are super safe, very easy to learn and use, and the overall efficiency and effectiveness of the machine on site is incredible."
Navarro said they were a week and a half ahead of schedule, attributing the use of a Magni to cut down on time.