Major Korean tower project for NFT
By Alex Dahm16 February 2018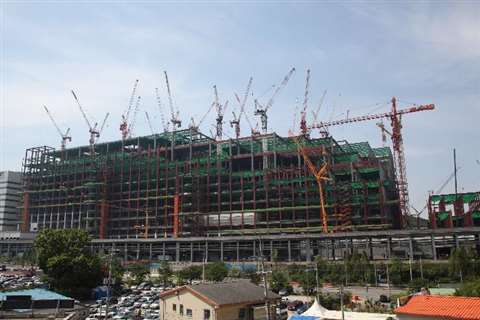 NFT in Abu Dhabi has won a contract to supply 30 tower cranes over six months for a Samsung factory construction project in South Korea.
It is the largest order placed at once for a single project in NFT's history. The cranes will help build a new Samsung electronics factory where a total of 51 tower cranes will be employed. Work will include lifting heavy steel structures weighing 28 tonnes. NFT recommended a mix of Potain MR 608 and Terex Comedil CTL 630 luffing jib tower cranes. Time was of the essence and this combination was the best solution to answer the client's order as quickly as possible, NFT said.
The 20-off MR 608s and 10-off CTL 630s will have a final height of 150 metres. They will be working for 14 months on a rental basis, NFT said. Deliveries started in January 2018 and will continue until June. NFT's local partner will provide service and after-sales support.
To be able to supply large numbers of cranes at short notice NFT said it has a stock of 2,000 tower cranes across 20 depots worldwide. Nabil Al Zahlawi, NFT chief executive officer, said, "Every year we forecast what tower cranes the market will be needed while working with manufacturers' production schedules so that when there is demand, we are ready immediately."
The Samsung factory project is one of several for NFT in South Korea. Nearby the company supplied 32 tower cranes to help build LG's display screen factory. They included Potain MD 1100, MR 608 and MR 605 models.