Manitex revenue rises in third quarter
By Alex Dahm08 November 2018
Net revenue was up 7.9 per cent in the third quarter of 2018 at crane maker Manitex over the same period in 2017. The boom truck and knuckle boom crane manufacturer posted a figure of US$60.9 million for Q3 2018 versus $56.5 million a year earlier.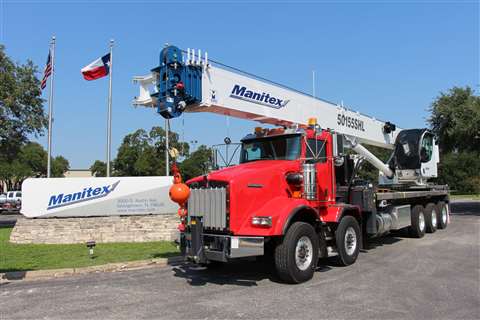 Adjusted earnings before taxes, depreciation and amortisation (EBITDA) was up 21.0 % to $5.0 million, or 8.2 % of sales, from $4.2 million or 7.4 % of sales, the company said.
Net debt of $49 million was down by $41 million since the end of 2017. Order backlog at the end of October was $79 million, up 30 % on the $61 million at the end of 2017.
David Langevin, Manitex chief executive and chairman, commented, "Our hallmark Manitex brand crane business continues to experience robust growth, as a leader with 40% of the North American straight mast boom truck market, with healthy margins and a replacement cycle underway. We are also particularly encouraged about the benefits that our partner Tadano has brought to the table. Now in just its fifth month, this partnership is moving us forward in establishing PM as a top competitor in the knuckle boom crane market. With its presence in the Asian, European, and South American markets, we believe there is potential for PM to achieve meaningful penetration of the growing multi-billion knuckle boom market, which is the largest market opportunity for Manitex, and thus, a top priority for our company."
Steve Kiefer, Manitex president and chief operating officer, said, "Key markets remain healthy and show signs of growth with continued improvement in rental rates, rental fleet utilization levels and industry orders for mobile cranes."
Kiefer continued, "The multi-billion-dollar global knuckle boom market remains healthy and represents one of our most significant growth opportunities, with, in our estimation, each percentage point of share gain generates $20 million in incremental annual revenue. Buildout of our North American dealer network continues, with two multi-site PM knuckle boom dealers having signed on with us year to date and our team is working diligently with the Tadano team and distribution network to finalise initial stocking orders and move to the next phase of our marketing plans. Our objective is to accelerate PM's penetration of this key global market throughout their global dealer network."