Martin Lehner to leave Wacker Neuson
Martin Lehner will leave German compact equipment manufacturer Wacker Neuson at the end of March after more than 30 years with the company and its predecessors.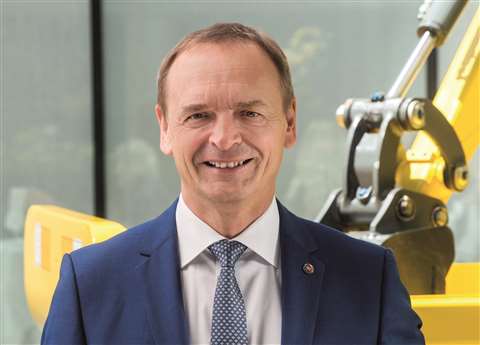 Wacker Neuson said Mr Lehner will not be extending his contract as chairman of the Executive Board, CEO and CTO "for personal reasons", but he would remain in an advisory capacity until 31 March to ensure a smooth transition.
Supervisory Board member Kurt Helletzgruber has been seconded to the Executive Board effective 1 January and will assume the duties of CEO and the position of Executive Board chairman for the first half of 2021.
Martin Lehner said: ""I have spent many successful years at the Wacker Neuson Group. During this time, the organisation has grown to become a leading manufacturer of light and compact equipment. Now, the time has come for me to focus on new tasks and challenges.
"I am extremely grateful that I have been able to help the Wacker Neuson Group on its path to becoming an internationally successful group and technology leader. I have always been passionate about areas of future significance such as zero emission construction equipment and digitalization and am particularly proud of the innovative drive that our group has shown in these fields."
Hans Neunteufel, chairman of the supervisory board of Wacker Neuson, commented: "The Supervisory Board of Wacker Neuson SE regrets Mr Lehner's decision and thanks him for his unwavering personal commitment. During his many years of successful work on the Executive Board, he has helped drive forward the group's internationalisation and opened up new growth areas.
"With the departure of Martin Lehner, Wacker Neuson Group is losing a valued CEO."
Martin Lehner was appointed to Wacker Neuson's Executive Board after the merger with Kramer Baumaschinen in 2007, becoming chairman in 2017.
For the past 10 years, the group has reported average growth rates of 11%, but it has suffered badly this year during the Covid-19 pandemic. Earlier this month it reported a 16.5% fall in year on year revenues for the third quarter of 2020, following a drop of 25% in the three months to the end of June.