Merlo telehandler series released
By Neill Barston22 April 2015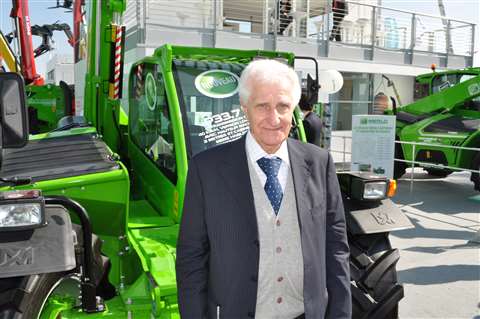 The president of Italian manufacturer Merlo has expressed confidence in the company's latest equipment range, which includes a new telehandler series launched at Intermat.
Amilcare Merlo said that 2015 was a year of transition for the business, but he explained that a €100 million two-year investment programme in production facilities and delivering its latest machines, has placed the business in a strong position for growth.
"The new machines we have launched are very important, as they are the start of a new generation of equipment that we will continue to build on," said Mr Merlo.
He added, "We have a complete range of products and we have expanded into different sectors. We have confidence in our range, and while it is a very big job to manage all our 150 products, we have worked as a team, and we have the know-how to enable us to do this."
Merlo's new compact telehandlers, the TF33.7 and TF30.9 will go into production in the fourth quarter of 2015. The two machines have a modular design, which claim best-in-class cab size and comfort.
Merlo's president added that one of the series' most significant developments has been its Transversal Stability System (MTSS), which has received an innovation gold medal at the Intermat Innovation Awards.
The company said the MTSS system had been developed to improve safety levels, through monitoring the lateral stability of machines. It has been integrated with existing telehandler dynamic load control systems (MCDC), which monitors equipment performance to help ensure machines stay within safe operating levels.
Both compact models are available in either 56kW or 90kW power options and have stage IIIB engines. The higher-powered of the two versions has a 7m lifting height and 100kg improved maximum load of 3.3 tonnes.
The 56kW model, which has targeted the rental sector, delivers a 3 tonne capacity – up 200kg on the previous model, and has a lifting ability of 9m. There are also low profile versions of the telehandlers, which are less than two metres in height. These have been developed for construction sites where space is limited.
The new series' standard features include an EPD (eco power drive) system, which has delivered fuel savings of up to 18%, according to the company. There is also a new fan drive system for cleaning the machines' radiator filter, which the company said has been designed to cope with demanding operating environments.
There are two medium-sized telehandlers, the new TF33.9 and TF35.7, which have a modular design with CS cab suspension, which aims to offer greater operator comfort through improved cab designs.
The TF35.7 has a 3.5 tonne lift capacity, while the TF33.9's key feature is an increased lifting height, which has improved from 7m to 9m. According to the company, it the range also has an 18% improvement in fuel consumption.
The company is also releasing high capacity telehandlers. These have CVtronic systems developed to improve engine torque, and an eco power operating mode to boost machine efficiency. According to the company, the series' CVTronic continuous variable transmission is capable of delivering smoother acceleration between 0 and 40km/h. Engine power has also been upgraded, from 108kW to 133kW.
Merlo has also added new versions of its rotating telescopic handlers, which feature Stage IIIB engines. Engine power has also been upgraded, from 108kW to 133kW.