Modular building specialist boosts fleet
In the three months to November 2020, Premier Modular invested £7m in its fleet to meet growing demand from the healthcare, infrastructure, education and construction sectors.
In particular, the expansion of Premier's hire fleet allows a rapid response for major contracts such as the Covid-19 testing project. The multi-million pound contract awarded to Premier Modular to provide modular buildings for Covid-19 testing has effectively been doubled to service 50 sites across the UK.
The move follows the success of the first phase awarded to Premier by the UK's Department of Health and Social Care for an initial 25 sites from Inverness in the North to Portsmouth in the South, in line with the Government objective of increasing testing capacity.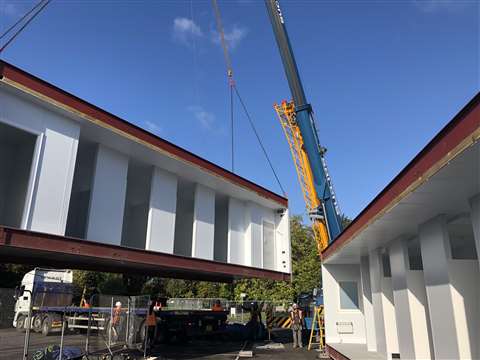 Premier has now set up standalone community testing sites in towns and cities across the country including Bolton, Inverness, Leamington Spa, Dudley, Nottingham, Aylesbury, Buxton and Liverpool. The next batch of sites will be in Leeds, Redcar, Durham and Oadby in Leicestershire.
Premier is part of the South African Waco International group, which has scaffolding, formwork, powered access and portable accommodation businesses.
Premier manufactures the test buildings to order and has put in place an entire extra shift working through the night at its modular building factory in East Yorkshire to meet the unprecedented lead times required for this contract.
David Harris, Managing Director of Premier Modular, said efficiencies in production and on site would ensure the testing sites were up and running in just two to three days; "We are delighted this work has been recognised with the doubling of our contract to 50 sites," he said.
Each standalone test site has a 110sqm purpose-designed testing building pre-fitted with eight patient cubicles, hygienic walls, separate staff entrance and exit, test collection and drop off zones and a family testing room.
Three buildings will accommodate a PPE room, stores, test preparation, staff rest room, kitchenette and toilets, as well as essential services – water supply, effluent collection and electricity generators.
Modular buildings to accommodate wards, health centres and ancillary services can be delivered in a fraction of the time of a site-based construction solution.
Critically, purpose-designed and permanent facilities can be installed on hospital or city centre sites with far less disruption to the local community.
Premier provides temporary modular buildings and permanent offsite solutions for many applications. It has manufactured buildings for more than 60 years from its operations in East Yorkshire and employs around 250 staff.