Modulift upgrades beam
By Christian Shelton30 October 2019
UK below the hook heavy lifting equipment manufacturer Modulift has enhanced its adjustable lifting and spreader beam (MOD CLS) so that it can now lift up to 27 tonnes (up from 8.5 tonnes).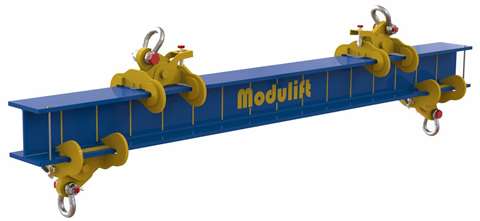 The beam also has a new and improved clamp system enabling lifting from multiple points. The beam can have a span of up to 16 metres and it has adjustable lifting points and low head room capability. Modulift says it is easy to convert between a lifting beam and a semi spreader beam and can be bought as a boxed, off-the-shelf product.
The clamps are pre-assembled with a redesigned safety mechanism which Modulift says means it is easier for one person to operate and to slide and safely lock into place. In testing trials Modulift says this has been done in under one minute.
The updated beam comes with four clamps as standard so the beam can be formatted with either a single top lifting point (lifting beam) or double top lifting points (semi spreader beam). Modulift can also supply custom length beams depending on lifting requirements.
The MOD CLS can also be fitted with up to four an additional clamps on its bottom side allowing users the flexibility of additional lifting points. If more points are needed the flexible system can also be designed as a H-Frame, Modulift adds.