Morris Site Machinery's highlights
By Helen Wright14 April 2016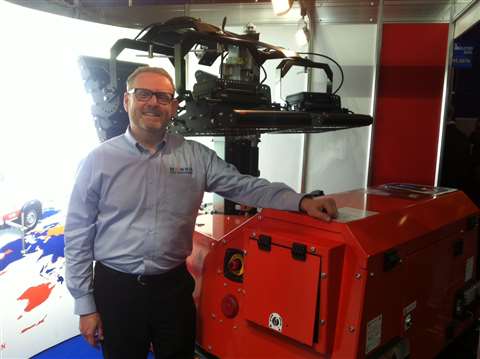 Manufacturer Morris Site Machinery is exhibiting at Bauma Munich for the first time; showcasing its latest lighting tower launches.
Managing director Phil Winnington said, "We are seeing strong demand for our lighting towers around the world. In the UK of course, but also Australia, where we are a well-established brand, and further afield – Vietnam for instance, where we recently supplied a number of models.
"We are here at Bauma Munich for the first time, and are collaborating with rental companies in mainland Europe as well. We've been impressed by the level of interest we've seen from visitors at the show.
"Our lighting towers are popular with rental companies because they are efficient, they meet high health and safety standards, and they are very robust.
"We invest a lot in our research and development activities as well – and, crucially, there is always a seat around the table for the customer in this process. We want to move with our customers and develop products that suit their specific needs."
Morris Site Machinery is showcasing new lighting towers, including the 400-hour run time SMC TL-90 LED and the newest model in the range, the extra low voltage SMC TL-90 DC-ELV.

Said to be compact and easy-to-transport, the SMC TL-90 DC-ELV features four 300W LED lamp heads offering directional light. Morris said the new model offers up to 165 hours of uninterrupted operation, and also boasts safety features including automatic mast descent when the handbrake is deployed, fully bunded fuel tanks, central lifting eye, secure fixed points from ground level, and emergency stop.
Taking place in Munich, Germany, from 11 to 17 April, Bauma is the largest construction equipment exhibition in the world.