Multi-frequency screen offering
The multi-frequency technology from USA-based Astec Mobile Screens, launched in March 2017 for the GT205 plant, has now been designed and manufactured on a portable PTSC205 plant and GT145 track screen.
Astec will now offer multi-frequency technology for all its 1.5 m (5 ft) wide two-deck screens.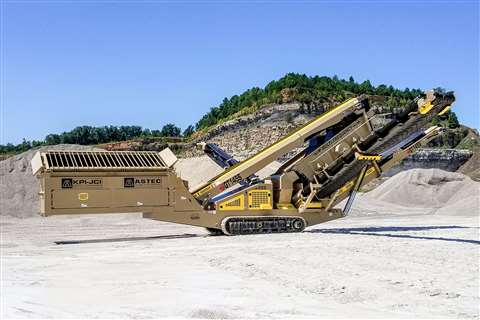 Multi-frequency technology combines a conventional, two-bearing vibrator, traditionally used on an incline screen with a high frequency vibrator on the bottom deck.
The combination of the two systems creates a screen that operates with a higher G-force, and the increased screening energy also enables the multi-frequency screen to process material with higher moisture content.
"Our customers have seen tremendous improvements in their operations by using the multi-frequency screen in the GT205," said Patrick Reaver, inside sales director at Astec Mobile Screens.
"We are really excited to bring this technology to more people by expanding into our direct feed and portable mounted screens."