NTD adds Prinoth dumpers to rental fleet
National Tracked Dumper Hire (NTD) has added four Prinoth tracked dumpers to its rental fleet. The deal is the first for Bradley Group since it was appointed Primoth's UK distributor earlier this year.
NTD, which operates nationally from six locations in England and Wales, has bought four Prinoth Panther T14R models, which have 13.2 tonne payload capacities, weigh 16.9 tonnes, and offer ground pressures of 279 g/cm2 (or 524g/cms loaded).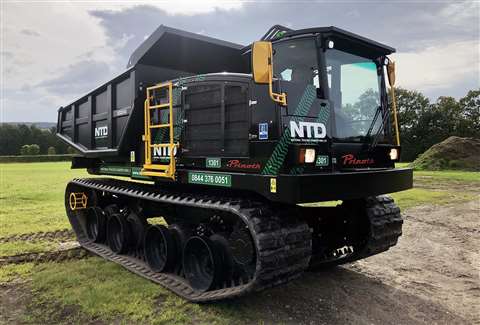 The machines have been customised for NTD, including a metallic black paint job with yellow highlights on access points, cab beacon lights, and a small FOPS steel cage around each beacon light.
All four units are already out on rental on major national projects and work sites around the country.
Canadian manufacturer Prinoth added that there were many projects underway in the UK where Panther crawler were being used and that new applications were being explored; "The partnership with Bradley has a very promising future for Prinoth in the UK."