New 50-ton trailer from Talbert
North American heavy-haul and specialized trailer manufacturer, Talbert Manufacturing, has launched a 50-ton-capacity bus hauler trailer, called the 50CC-BH, that it said can haul a wide range of oversized equipment, including buses, excavators and class A trucks. The trailer is also suitable for hauling equipment with a low clearance and a long wheel base.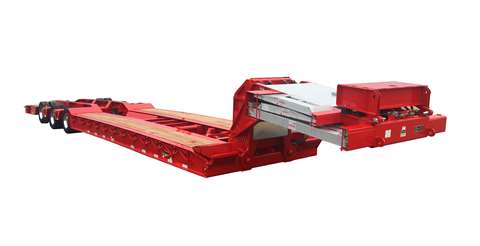 Talbert said it designed the trailer with an in-deck winch enabling users to load equipment from either the front or rear of the trailer. Talbert designed the 50CC-BH with extra steel in the main and side beams of the deck, as well as in the gooseneck and rear axles. It claimed this design allows the trailer to achieve its 50-ton capacity rating without significantly increasing its weight. The trailer has rollers and a snatch block that allow users to pull equipment from either end of the trailer using a 20,000 lb planetary in-deck winch. Users can operate the winch via remote control, which eliminates the need for additional people when loading inoperable equipment. Talbert said this also saves customers from the hassle and costs associated with hiring a towing company.
The 50CC-BH is equipped with three close-coupled axles and has a 22-foot, 6-inch lower deck length, plus a 20-foot, 5-inch rear bridge, creating a 43-foot load base. Talbert said this provides ample space for hauling large equipment. The trailer has a 21-inch deck height and a 24-inch flip-up gooseneck that increases the unit's 84-inch swing radius to 108 inches. This allows the unit to be used with both three- and four-axle trucks and keeps the trailer within US regulations (that stipulate an overall length limit of 53 feet when running empty). Talbert said this can help its customers save on permit costs.
Talbert offers the 50CC-BH with heavy-duty, 10 ft, removable aluminium ramps which can be stored in compartments located at the trailer's gooseneck. The 50CC-BH is designed with a low front and rear load angle, making it suitable for loading large, low-profile equipment.
The 50CC-BH is made from heavy-duty, T-1, 100,000-psi minimum yield steel for durability and longevity and is coated with Valspar R-Cure 800 paint to help prevent corrosion and provide a long-lasting finish.
"This trailer is ideal for our customers that haul a variety of equipment," said Troy Geisler, Talbert vice president of marketing and sales. "These customers face a wide range of challenging requirements, including the need to load pieces with low approach angles, such as buses. We designed the 50CC-BH to accommodate that need, giving this customer base a safe and cost-effective way to achieve that."