New heavy haul Volvo for Chapman
By Niamh Marriott29 September 2021
Derbyshire, UK-based Paul Chapman and Sons has added a Volvo FH16 750 Globetrotter XL to its fleet, one of the first to be delivered in the UK.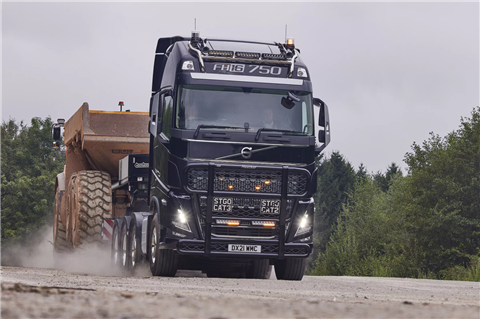 The crushing and screening contractor has paired the new truck, featuring a reinforced bogie for gross combination weights of 100 tonnes plus, with a four-axle Nooteboom trailer to transport heavy-duty construction machinery, such as crushers, screeners and excavators to sites around the country.
Matthew Crofts, managing director at Paul Chapman and Sons said, "This new truck replaces an older model FH16 650 6 x 4 that we used for our low-loader work. We have a lot of Volvo construction equipment in the fleet, and we get great feedback on the product."
Supplied by Brett Howton, area sales manager at Hartshorne Motor Services, the FH16 is painted in Volvo's veiled thistle pearl launch colour. It has the 750 horsepower D16K engine which has 3,550 Newton-metres of torque.
"We worked in conjunction with Volvo and the team at Hartshorne closely on the specification of the truck. SB Components installed and repositioned new fuel tanks to the rear of the cab but other than that all the work was done by Volvo, including the lightbars and the colour scheme," said Crofts.
Safety and control
The new model FH16 offers safety features such as adaptive high beam headlamps that automatically disable selected segments of the LED high beam when approaching oncoming traffic or another vehicle from behind.
There is a downhill cruise control function which sets a maximum speed to help prevent unwanted acceleration when travelling downhill. The driver's cab offers storage space, a fridge-freezer, a 12 inch (300 mm) high resolution display screen, an upgraded dashboard and leather upholstery.