Niftylift hybrid for Helsinki
By Euan Youdale22 September 2020
Finland-based Consti Construction chooses the Niftylift HR28 Hybrid from Ramirent for Summer Build
During the summer months in Europe, contruction company Consti Korjausrakentaminen chose to rent a Niftylift HeightRider 28 Hybrid (HR28) boom from Ramirent Finland for its construction site in Pasila, Helsinki. Consti chose the Niftylift hybrid boom to reduce running costs and to minimise exhaust and noise emissions, as the site in Pasila is located near office windows.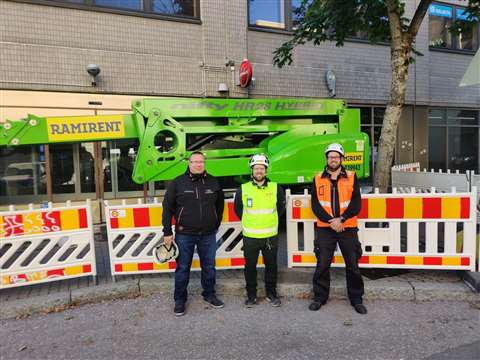 From left: Sami Tainio, JS-Multi Service; Juho Perälä, Ramirent Finland; and Sami Vilpas, Consti Korjausrakentaminen, with the Niftylift HR28 Hybrid.
The HR28 includes Niftylift's second-generation Gen2 Hybrid powertrain, which takes advantage of over a decade of hybrid development experience. It utilises an efficient, power-optimised EU Stage V compliant diesel engine, supported by the machine's electric motor when extra power is needed. This maintains power and performance while reducing fuel consumption for maximum efficiency.
Ramirent Finland sourced the HR28 from Niftylift's Finnish dealer, JS-Multi Service, which delivered the unit quickly and provided product demonstrations to Ramirent's customers and employees.
As part of its Work Equipment Industry's Green Deal contract, Ramirent Finland's aim is for 90% of its MEWP fleet to be electric or hybrid-powered by 2025. This is an ambitious but achievable aim, said the company, as these types of MEWPs are becoming more common now due to forward-looking manufacturers like Niftylift.