Nortons Hiab goes to school
By Alex Dahm14 March 2018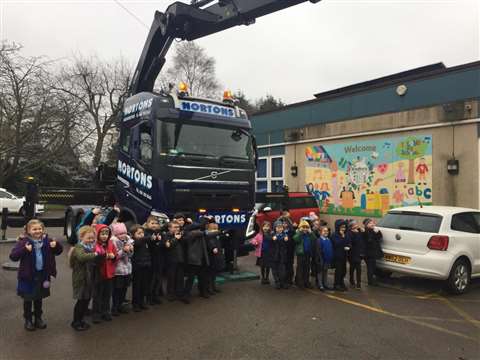 A request on social media to show children how a crane works turned into an unusual job for crane company Nortons Hiab Services. The UK company took one of its trucks mounted with a loader crane in to a school to help with some project-based learning.
The request was to help class 1/2CH from Bredbury Green Primary School in Stockport, north west England, to come up with ways to solve a hypothetical challenge. The task for the six and seven year olds was to find ways of rescuing a man trapped in a submarine at the bottom of the ocean by a giant rock.
The idea of using a crane led the class begin to make one out of wood, with a view to it being able to lift their teacher. It was decided that the only way to build a suitable one was to first see the real thing at first hand. Manchester-based Nortons Hiab Services took a Volvo FH 450/460 tractor unit with a Hiab 622E-6 HiPro crane along to the school to show the class what these machines can do.
Its arrival at school was met with great excitement – and not only from the teachers. Paul Eddisford, Nortons Hiab Services managing director, said, "I think the children were flabbergasted at the size of the crane when it was un-stowed from the travel position. I talked them through what it could do and how far it would reach. We put it over the teachers' cars and extended the arm over the school. It was great to show them the Hiab working from the rear of the Volvo with nothing sticking out of it at first and then suddenly, as the crane unfolded, it became a totally different thing for them; a bit like a Transformer."
Eddisford said that Nortons were very grateful for the opportunity to take part in the project, "Children are the future so hopefully our visit to Bredbury Green Primary School showed the children an insight into just what this equipment is capable of and will get them interested in our type of business when they're older."