Numerous launches from Genie
By Lindsey Anderson25 February 2019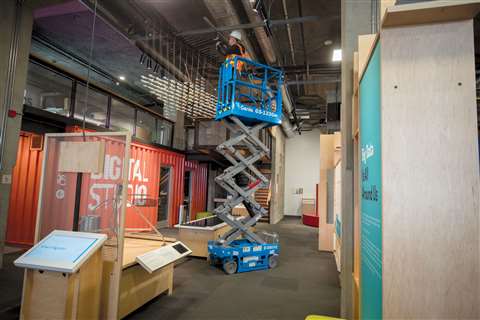 Genie debuted new products, safety innovations and technology developments at The ARA Show last week. The company showed the GS-1330m scissor for the first time in North America and also rounded-out its Xtra Capacity boom line the S-40 XC and S-45 XC units.
The GS-1330m scissor lift offers a maximum platform height of 12.8 feet and a maximum working height of 18.8 feet, with a 2-person, 500-pound capacity, and weighs in at 1,950 pounds.
"The biggest deal in scissor world is our littlest scissor," said Mike Flanagan, Genie product manager, Terex AWP. "We haven't shown off too many new scissors over the last couple of years, it's been a lot of booms, but now it's really the scissor's time to shine."
Flannigan said the micro scissor is tailored for lightweight applications where a compact, maneuverable machine, such as a vertical mast, would be used.
The Genie GS-1330m scissor lift is equipped with an efficient, all-electric DC drive system that offers productive power for getting around indoor jobsites with quiet, zero-emissions operation. Industry-leading runtime ensures full day productivity in a compact package. The Genie GS-1330m scissor lift enables, operators to drive at full height, and is capable of climbing up to 25 percent grade slopes in the stowed position for exceptional jobsite accessibility and transportability.
"Weighing less than 2,000 pounds (907 kg), the Genie GS-1330m scissor lift is able to access jobsites previously off limits to heavier slab scissors and vertical mast lifts in the industry due to passenger elevator capacity limitations," says Flanagan.
The Genie GS-1330m scissor lift incorporates the Genie Smart Link control system, offering a familiar interface, as well as fully proportional lift and drive control for precise positioning in the work environment.
"The Genie Smart Link control system simplifies troubleshooting with onboard easy to read and user-friendly machine adjustments and diagnostics, and it is compatible with the Genie Tech Pro™ Link handheld diagnostic tool," adds Flanagan.
XC line
Also at the show were the Genie telescopic S-40 XC and S-45 XC booms which now offer a dual lift capacity of 660-pounds unrestricted and 1,000-pounds restricted.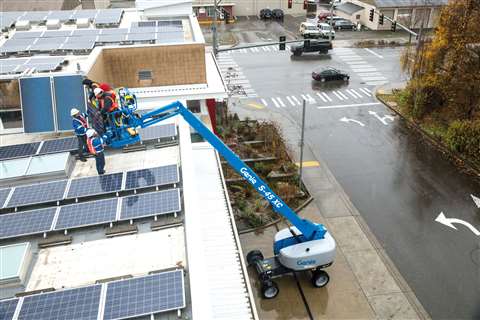 New to these models, the Genie S-40 XC and S-45 XC booms feature automatic envelope control. This is the ability to automatically retract as the booms reach their operating envelops; it also allows for precise platform positioning and an enhanced operator experience.
Like all Genie XC models, the new Genie S-40 XC and S-45 XC units are equipped with a load sense cell that continuously checks the weight in the platform and limits the operating envelope to match the load chart, all while boasting the ability to do zero load field calibrations. And, they are engineered with a redesigned boom structure that boasts increased performance, range of motion and envelope control, as well as a robust jib on the Genie S-45 XC model that is capable of easily handling the 1,000 pounds (454 kg) maximum capacity.
The Genie XC telescopic booms also come equipped with a chassis tilt sensor incorporated into the machines' function. The technology in this new sensor is engineered to automatically cutout certain lift and drive functions of the machines when the tilt activation setting is reached. "And, we've designed our new chassis tilt sensor to restrict the machine's range of motion based on the ground angle," says Corrado Gentile, Genie product manager, Terex AWP. "This new technology gives the new Genie S-40 XC and S-45 XC booms the ability to carry more load than ever before, as well as it has the ability to vary the platform envelope based on the ground slope to maximize these models' ability to access hard-to-reach work areas on challenging jobsites."
The company also used ARA to showcase its lithium ion battery option for scissor lifts, its Lift Connect telematics system, Lift Guard Contact Alarm for scissors and its access deck for booms and scissor lifts.
Telematics
The new Genie Lift Connect telematics hardware is now available as a standard feature with a 3-year subscription on all new machine purchases for Genie scissors, booms and telehandlers. Telematics hardware and a 3-year subscription for Genie GR and QS vertical masts, TZ trailer-mounted booms, as well as for Terex and Genie branded light towers, can be purchased as an option. The subscription includes the ability to consume the data through the Genie Lift Connect Portal and/or the standard ISO API (ISO15143-3).
"From knowing how equipment is performing or how often a machine is being utilized, to where each unit is or when it is ready for maintenance, machine data can provide a lot of insight to a rental business," says Christine Zeznick, Genie Senior Product and Business Development Manager, Terex AWP. "Today's Genie Lift Connect telematics technology has evolved to help our customers understand the information their machines are providing, enabling them to more efficiently manage their businesses. The Genie Lift Connect telematics offering has been developed in direct response to our customers' rental business needs for actionable information, flexible use and transparency in the data."
For more on these products and innovations, see the March issue of ALH.