Plenty for all: Murray Pollok previews the ARA Show
By Murray Pollok12 March 2008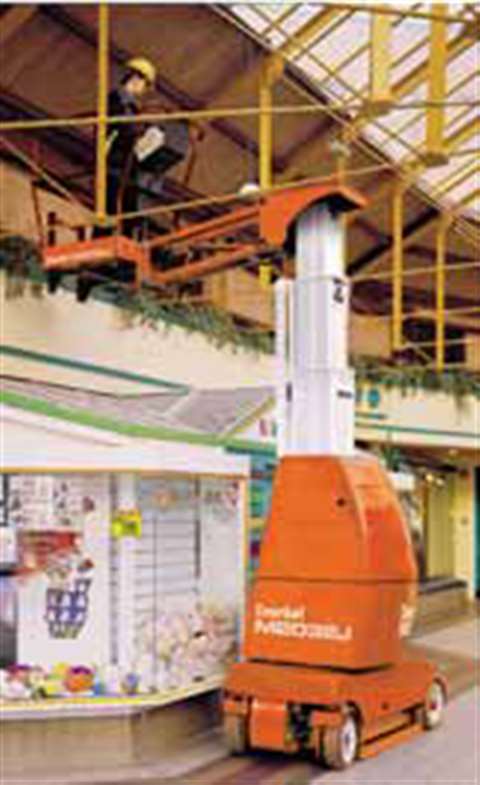 The second of next year's shows to take place in Las Vegas, the ARA is the premiere event for the lift and handler market. Murray Pollok reports
Even with a weak US residential market, the lure of ARA's Rental Show for suppliers remains very powerful. The annual event is the North American show for aerial work platforms and rough terrain forklift manufacturers. Exhibitor numbers will be down to 650 compared to this year's 700 number, but almost every major manufacturer and rental yard ALH has spoken with will be exhibiting and/or attending. Next year, the show returns to Mandalay Bay Resort & Casino, in Las Vegas, February 9-14, with the trade show taking place on the final three days.
For lift and handler suppliers, it's not only support for the ARA's major show to attend, but an opportunity for good sales. Additionally, just one month before North America's largest construction expo, Conexpo-Con/Agg, The Rental Show is a good venue to get a sneak peak of new products if the heavy congestion of Conexpo seems too much to bear.
Even though ARA tells ALH that there are "no signs at all that the economy is having on impact on the show thus far. Demand for booth space was extremely high" and that registration has been up, it will be interesting to see how busy the event will be with equipment buyers. Even if the big US rental companies say that the residential market represents a small proportion of their revenues, such as RSC's Erik Olsson citing only 5 or 6%, there is evidence that rental investment will slow down in 2008. Caterpillar recently reported a 12% drop in machine sales in the US for its third quarter of the year, and said that its dealers had been slowing investment in their rental fleets.
What can be said in advance of the show is that the bigger manufacturers will be there in force along with hundreds of smaller suppliers to the rental sector.
"The Rental Show is the ideal arena for us to showcase our new products. We had an extremely successful return to the Rental Show in 2007," says Doug King, UpRight's general manager in Fresno, CA. "This year we will further capitalize on the buzz that we generated." The company will be showcasing its two new trailer-mounting booms, which will begin full production volume early next year, models TL37 and TL49K articulated boom lifts. (See the feature on trailer-mounted equipment on page 21.)
Following this summer's acquisition of CareLift's ZoomBoom and extending its boom line, Skyjack will have a busy trade show season. The company has said it will be attending not only ARA, but World of Concrete and ConExpo, as well.
"We will have one booth for both Skyjack and Carelift at World of Concrete and ARA, and two booths at ConExpo," said Skyjack's Paul Kreutzwiser, senior product marketing manager. "At ARA we will be introducing the next model in our boom lift product line." That will be the 61 and 66 foot telescopic machines. However, attendees can expect to see at "all booths, all shows" a full sampling of product lines, including DC electric scissors, RT scissors, telescopic booms, and telehandlers, which includes the 10056 ZoomBoom handler, SJ 40T 40-foot telescoping boom and SJ45T 45 foot telescopic boom with jib.
"These shows are the perfect medium to get quality time with our customers and in some cases end users of our products. These audiences get to see the full spectrum of our products and take away as much information as possible. They are also quite understandably one of the best platforms to launch new products," Kreutzwiser.
Custom Equipment Inc. will be attending the event. "Our goal is to educate at this year's show," says Samantha Schoofs, marketing with Custom Equipment. "Our theme is application based, and we intend to show the many uses of the Hy-Brid HB1030 and HB1430."
The company plans to have four of its scissors lifts on exhibit. "Custom Equipment participates in shows like this to add product awareness through education and networking with dealers," Schoofs says.
Testament to the show's draw, the Snorkel International team will unveil eight new US-built models, including electric scissor, mast and articulated boom lifts aimed at the construction and industrial maintenance sectors, along with its "SpeedLevel" rough terrain vertical lifts. These include several UpRight Powered Access machines that will now be built in the US and branded Snorkel.
Expect also to see some new products from JLG and Genie. JLG, for example, could have its newly revamped ES scissor line in Las Vegas.
Aichi, meanwhile, has big plans for North America – including manufacturing (see News) – and the Rental Show could well see a number of new machines from the company. Definitely a stand worth visiting.
France's Haulotte, however, told ALH it will not be attending ARA. Instead, its main focus appears to be Conexpo.
There are also some first-time Rental Show exhibitors in the aerials sector. These include Teupen America, the US representative of German "Spider" or "Atrium lift" type aerial platforms, as well as UK-based Pop Up Products Ltd, which makes a small, push-around scissor lift that has proved popular with rental companies in the UK and elsewhere. The Las Vegas show will be Pop Up's launch into the US.
If both Pop Up and Teupen America operate in the niche end of the aerials market, even more niche is another Rental Show first-timer, New Jersey-based Airtrax Corp, which is going to show a selection of its special "omni-directional" industrial products, which includes both scissor lifts and industrial forklifts. These have a special wheel design that allows the user to direct the machine very precisely in any direction.
It might be easy to get caught up visiting the bigger-name booths, as these are the eye grabbers. But don't forget to visit the smaller booths. As an example, Texada Software, neighbors to Skyjack in Guelph, ON may not have fireworks and beauty queen models, but its booth will be worth the stop. "We will have at least four stations where attendees can view a demo of our products and services," says Anne-Marie Monroe, public relations coordinator with Texada Software.
In addition to exhibiting, the company is sponsoring the Construction U seminars held on February 10, where literature about the company's Systematic Software will be available.
Orion Software will be showing its Sirius Pro and Sirius Lite rental software. The Sirius Lite is a scaled down version of the Pro, modified for smaller businesses that need to present a professional image to present to clients. The Sirius Pro is Windows-based rental management software which enables users to control activities, clients and inventories, while integrating with accounting software packages such as QuickBooks.
Is the ARA worth a software company's time? "Absolutely", says Sales Manager Steve Milcik. "I would say it's probably the most popular show in terms of closing deals on the spot. In software, it's usually a long sales cycle –three months to a year. At this show, people come with a shopping list. It's great for sales closing, leads, and to meeting our customers," he says.
In regards to how rental software has fared over the residential slump, Milcik reports that although the company does "feel its impact," but says its sales continue to grow each year and are where the company expects it to be.
As always at ARA there is a fantastic array of seminars, workshops and other events designed to cover the entire spectrum of rental, from heavy construction equipment to party and events.
Finally, KHL Group USA, publisher of American Lift & Handlers, again exhibits at the show. Come along to the stand and pick up our latest issue, as well as copies of our sister magazines Access International and International Rental News. You can find us on stand 5548 – we look forward to seeing you there.