Quarrying and mining: Big equipment, big demands
By Andy Brown28 September 2020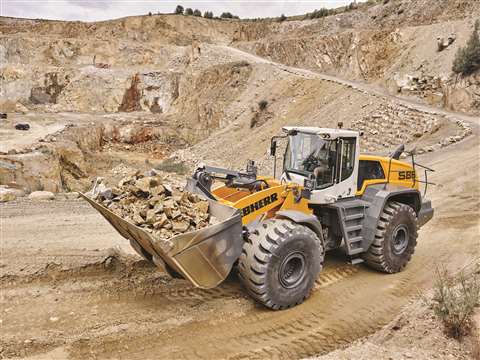 While all sectors of construction equipment sales have been negatively impacted by Covid-19, some sectors have been hit worse than others. Sales of quarrying and mining equipment were already on a download cycle before the global pandemic hit and, according to Matthew Gilewicz, senior associate and partner at The Parker Bay Company, the sector hasn't been as badly impacted by Covid-19 as they once feared it might be.
"When this first started back in March, we were fearing that there was going to be a significant pullback, particularly in the early quarters when the markets were crashing, some of the factories were closing and mines were suspending operations," said Gilewicz.
"There was a feeling that, second, third quarter we may see a very marked decline in deliveries because there were so many interruptions to supply chains with plant closures. What we did see in Q2 was pretty much a decline that was generally in line with what's happened over the past year and a half."
Parker Bay is a specialist company providing data, analysis and related market intelligence services for the mining equipment industry. Gilewitz says that the sector has seen six successive quarters of falling sales, mostly in single digits, and therefore the second quarter of 2020 wasn't a dramatic departure from that. He adds that Parker Bay doesn't expect the end of this year to record any growth but says that growth is coming, and that 2020 is likely to be bottom of this current downturn cycle.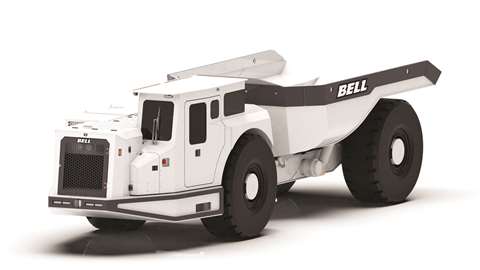 This is mainly down to the age of the equipment in the field. The last 'mineral supercycle' brought with it the large-scale purchase of equipment, but much of this is now increasingly old – even with the life-span of equipment steadily increasing, Gilewicz believes that many will have no choice but to make some larger scale equipment purchases sooner rather than later.
"During the mineral supercycle, there was such a prolonged increase in unit deliveries back in 2003 through 2012, that so many of those machines now are coming towards the end of their service lives… We're seeing increased investment from mines in rebuilding these machines and extending their life far beyond what it used to be. But, if the average truck now is between ten and 11 years old, we're really getting into the heart of the bell curve for truck replacements.
"If you look at the mortality curve for these, and if the average is close to thirteen years, in a few years, 80% or 90% of the trucks are likely to be replaced. That's the same across different lifespans for different product lines."
New quarrying and mining products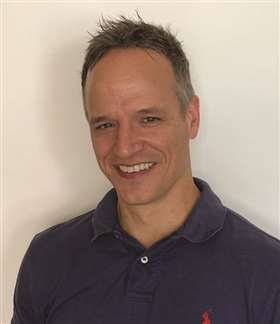 One of the reasons that customers may be looking to extend the life-span of mining and quarrying equipment is due to the sheer size and cost of some of the machines. Doosan recently launched the new DX800LC-7 Stage V compliant 80 tonne crawler excavator, the largest model ever manufactured by the company. Said to be driven by the most powerful engine in the 80 tonne class, the DX800LC-7 also has the highest hydraulic flow for this size of machine, said to boost productivity and lower fuel consumption.
This machine was first launched in 2018 for regions of the world with lower engine emission regulation, but the company has worked to equip it with the latest generation engine to meet Stage V regulations.
Talking about the new technology on the machine, Stephane Dieu, Doosan Heavy Excavators product manager, says, "This machine is equipped with the latest hydraulic management and power control technology. The DX800LC-7 detects exactly what the operator wants to do and delivers the exact amount of hydraulic oil and the exact power from the engine needed for the application.
"With these new technologies, it is possible to optimise the fuel consumption and minimise the energy lost. The new DX800LC-7 has an average fuel consumption of 40 liters per hour – in a quarry application with a 4.6m3 bucket, that will result in around 20 tonnes of material moved per litre of fuel."
Dieu adds that, in Europe, the main markets are France, UK, Italy, Spain and Nordic countries with a lot of stone quarries. Special attention has been paid to the operator cab with the product specialist saying, "It will increase the productivity, and also the safety, because the operator will be able to concentrate better when they are working."
South Africa-based manufacturer Bell has recently released details about the latest generation Bell B30L and B35L Low Profile Articulated Dump Trucks (ADTs) with a new side-mount low profile.
According to the company, these deliver the lowest cost per tonne solution and an 'autonomous ready' platform that is easily configurable for remote operation either by a handheld remote control or a more sophisticated autonomous control centre.
Bell Equipment product designer, Shaun Tucker, explains that making the truck 'future proof' was a key design input, commenting that, "These machines generally have a long life underground and in five years' time there may be more of a need for autonomous control than there is today.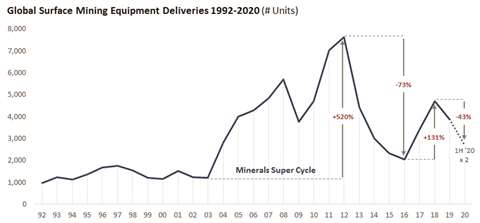 "Underground haul roads don't change and could easily allow worksites to be automated in the future, so we chose components that would open that gap for us. Additionally, the remote capability allows the machine to be operated via remote control in dangerous conditions where it might not be safe for an operator. This machine has all the bells and whistles in terms of being PDS (pedestrian detection system), remote control and autonomous ready."
The Bell B30L was recently demonstrated at open days at the Bell Factory in Richards Bay, South Africa. It will now be tested at a local underground mine where it will join the mine's existing fleet in a production cycle.
In other product news, Terex Trucks has released the 38 tonnes TA400, the biggest articulated hauler manufactured by the company. This robust machine is said to excel at delivering cost-effective production at large-scale construction projects, quarries and mines.
Terex Trucks specialises in articulated haulers and says that, from the interior of the cab to the design of the chassis, this machine has been created to perform in some of the most challenging applications. The TA400 has a heaped capacity of 23.0m3 and is powered by a Scania DC13 engine that develops gross power of 331kW (444hp).
The TA400's fuel engine range is globally emissions compliant and meets the requirements of EU and North American legislation without the need for a diesel particulate filter (DPF). This is said to be achieved via the latest generation selective catalytic reduction (SCR) technology, combined with exhaust gas regeneration (EGR) and a variable geometry turbo (VGT).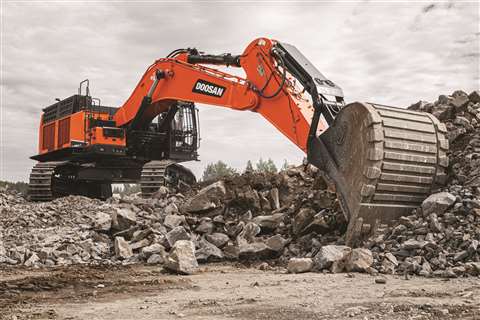 One of the impacts of Covid-19 is the cancellation of trade shows. Construction heavyweight Liebherr had planned to showcase its largest wheeled loader, the L 586 XPower model in a live demonstration at the Steinexpo event. Liebherr's large wheeled loaders are often used in quarries where they transport quarried material, load mining trucks or feed crushing and sifting plants.
The heart of the approximately 33 tonne L 586 XPower is its emission stage V/ Tier 4f conforming power-split travel drive, which Liebherr fits as standard in all large wheeled loaders in the XPower series. This combines the hydrostatic drive, perfect for short loading cycles, with the mechanical drive, whose advantages are clearly apparent over long distances.
A spokesperson from Liebherr commented that the company are looking forward to exhibiting their wheeled loaders again at events in the future when it is safe to do so.
White paper redesign for Komatsu WA900 loader
It is often the case that when a new model comes out it is really a tweak on the old model – a more spacious cab or a slight adjustment here and there. This is not the case with Komatsu America's WA900-8 which has seen what product marketing manager Robert Hussey describes as a, "white-paper redesign."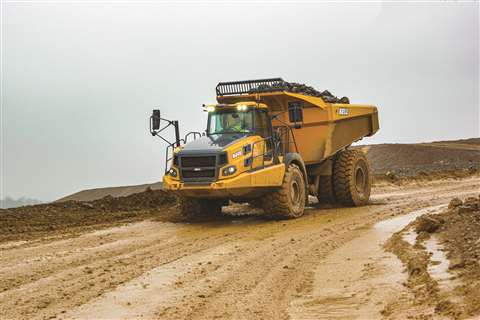 The reason for this is that the WA900 has been in Komatsu's portfolio of products for approximately 30 years but with the need to update the machine to meet emissions requirements the team jumped on the opportunity to start fresh and create exactly what they wanted to. The new model sits considerably heavier at 256,618 pounds (116 tonnes) compared to 236,340 pounds (107 tonnes) and comes equipped as standard with a high degree of technology including three new systems: automatic dig, semi-auto approach and semi-auto dump.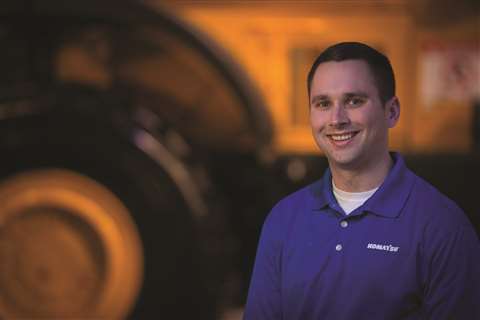 "These systems can all be used independently of each other. So, if you want to use automatic dig only, then you can just turn on that system. You don't have to use the semi-auto approach and dump systems," explains Hussey. "Say you really like the semi-auto dump system, but you're an experienced operator and you enjoy the actual digging function. You can elect to just choose the semi-auto dump system. By doing that, we are not trying to make any operator use these features in a way that they wouldn't want to."
The two main benefits of these features are that they can make inexperienced operators more productive and, for experienced operators, they limit their fatigue. Hussey says that, generally speaking, those more excited by this new technology are younger workers who have grown up around technology.
"Those guys, they want to know what every single button in the cab does, how everything works. Some of the more experienced operators that have been running loaders for 30 plus years, they don't even turn the radio on." He also makes the key point that having the technology available is not enough, it needs to be easy to use, which is why on the new models there are fewer buttons to press to enable these systems and, once they are on, they stay on.
Regarding some of those more experienced operators he says, "When they do want to use them, they have to be really simple and easy to use, because all that has to happen is, if it doesn't work once they'll never touch it again."
Staying on the theme of new technology, at this year's Conexpo show in Las Vegas, US, Caterpillar announced the expansion of Cat Command to a broader range of construction machines. Cat Command is now launching a line of remote control and semi-autonomous technologies, including remote control loading, dozing and excavating operations.
Wheeled loaders operating in mining and quarry and aggregates applications face a number of potentially dangerous areas, such as high walls, stockpiles, steep slopes, unstable surfaces and areas where there are hazardous materials or the possibility of falling debris.
Cat Command for loading on wheeled loaders is a line-of-sight remote control system which removes users from potentially dangerous situations. Command for loading uses wireless technology and on-board electronic systems to allow the machines to be controlled without an operator in the cab.
A single user can control multiple machines, one at a time, or change jobsite location without travelling from the office to the machine, improving operating efficiency and reducing travel time and costs. The importance of this has only been highlighted by the Covid-19 pandemic.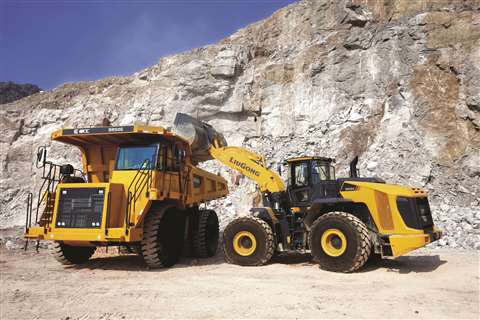 Remote control affords continuous production immediately following a disruptive process, like blasting, to increase machine productivity. Cat Command helps reduce work disruptions due to weather conditions or non-production related issues to improve machine uptime.
China-based OEM LiuGong has one of the largest product lines out of the world's major manufacturers. In the sector of mining the company has wheeled loaders, excavators, mining trucks, bulldozers, graders, drilling rigs, mobile crushing and screening and other mining equipment.
The company is also focused on new technology, and with the intelligent telematics equipment manage system Liugong iLink provides a way to record the increasing amounts of data available and store it on one central hub.
The data recorded includes fuel consumption and engine hour record, equipment status analysis, equipment diagnosis and services, equipment positioning and locking to help customers remotely manage equipment, keep abreast of its status and start-up information, and know potential failures in advance. Through intelligent equipment management, users can optimise equipment matching, improve production and management efficiency, reduce operating costs and risks, and improve profitability.
Embracing quarrying and mining machine automation
Industry expert Matthew Gilewicz from Parker Bay has an interesting view on new technology in quarrying and mining, arguing that the sector is perhaps only now fully embracing the possibilities of automation.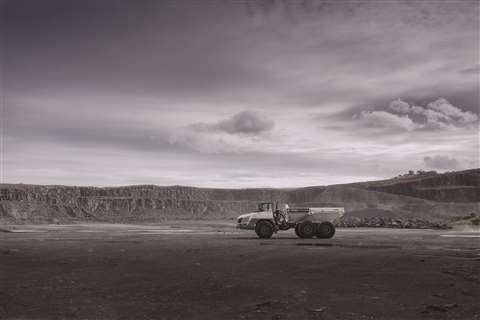 Gilewicz comments that, although mining and quarrying has been getting attention for some time now regarding automation, for many years the total number of autonomous and semi-autonomous equipment was actually only around 2-3% of units per quarter.
"However, that has actually changed over the past three or four quarters, with trucks being the primary one. Since the end of last year and the first two quarters of this year, it is approaching closer to 10% of the new deliveries, are now autonomous units.
"There's also been a notable increase in the retrofitting of existing machines in the field. Both from OEMs retrofitting trucks that did not ship autonomously, but also the emergence of a number of third-party providers whose autonomous technologies are perhaps applicable for mixed fleets that mines have. I think it's something that we are definitely going to continue to see growth in because to really get the cost benefit from autonomous, it's a matter of scale."
Electric-powered equipment is also a trend, although the sheer size of much of the equipment in quarrying and mining poses certain logistical issues.
"The machines in this market are too large to be battery powered at the moment. There has been a shift away from diesel power to natural gas, but also electric power. There are other [equipment] that are electric drive, sometimes powered by onboard diesel, but there are other options for those type of electric drive equipment, such as hydraulic excavators that can be electric," says Gilewicz.
"One of the issues with transitioning to that is you need to have access to large power, either generation onsite or direct to site. And that is a limiting factor for some of these mines. There is a lot of investment in actually getting to the point where all of your haul routes and such can be utilising that type of technology.
"Moving away from diesel power to so called environmentally friendly equipment in terms of emissions and other things, such as electric, is somewhat more difficult to implement in certain instances across the mining markets."
With autonomous, remote controlled and electric equipment – to varying degrees – becoming increasingly common place in mining and quarrying equipment fleets, it is clear that in the future the machines operating in this sector will be expected to be more than simply tough and robust.
Award for autonomous hauler
Volvo CE's TA15 wins Red Dot Award
Volvo Construction Equipment's (Volvo CE) TA15 – part of the TARA autonomous transport solution from Volvo Autonomous Solutions – has won a Red Dot Award for product design.
The hauler runs on a battery-electric drivetrain based on shared technology from the Volvo Group. The automation system uses GPS, Lidar, Radar and multiple sensors. Being autonomous, the TA15 has no need for a cabin – making for a dramatically new machine profile.
With a 15 tonne hauling capacity, TA15 forms part of the wider TARA autonomous transport solution concept, so that a series of them can be connected together to form a 'train' of machines, for maximum loading and hauling efficiency. The TA15 will be a critical element of the TARA electric and autonomous transport solution.
Talking about automation in quarries, Uwe Müller, sales and marketing lead for Off Road Solutions at Volvo Autonomous Solutions, said, "To reduce the complexity of the world we need to standardise the process as much as possible.
"In quarries we can do this as they are in a confined area, are highly regulated and it's easier to separate autonomous transport from other processes. Involving loading and dumping, the process itself is simple and repetitive."
Mining truck landmark for XCMG
1,000th XCMG mining truck XDM80 produced
On August 1 2020, the 1,000th XCMG mining truck XDM80 was produced in XCMG's mining machinery industrial base in China.
In December 2018, XCMG mining machinery was established. In July 2019, the first XDM80 went offline successfully, and the 1000th XDM80 rolled off the production line in August of the following year.
The XCMG XDM80 is said to be proving popular in Inner Mongolia, Xinjiang, Shanxi, and other markets. Reported to be the world's first light mechanical drive truck with the rigid dumper technology, many core advantages of the XDM80 meet the development requirements of open-pit mines.
Operating conditions in open-pit mines, characterised by thick dust, heavy load, great working intensity, and almost all-day operation of the equipment, is one of the most difficult and complex working conditions in the world.
Metso's global picture
Pekka Vauramo, CEO of Metso Outotec on different global markets
In China aggregates is currently booming. We have many activities in the aggregates market in China, we have a local product line that we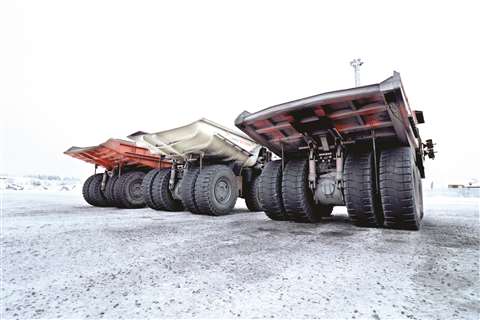 own fully and manufacture in China. We are exporting to China and we have a joint venture company as well in China that assembles certain mobile units and sells through their own distribution channel.
China has come up with a massive infrastructure funding package worth tens of millions of Renminbis. And, at the same time, we see the impact of China changing the regulations relating to this industry. This means they are in process of upgrading the quarry industry when it comes to technology and environmental regulations, and we are all benefiting from that.
The rest of the world is very much still affected by Covid, even though construction activity is surprisingly high. For example, in the US, commercial building is down, but housing and infrastructure is fairly active. Things are going reasonably well with aggregates customers, but because of uncertainty, they are not investing as actively as they otherwise would.
It is very much mixed in Europe in this regard. Southern Europe started to recover already. Germany has been doing reasonably well but the UK has been very much affected. It is not a unified picture at all in Europe.