Rail tunnel construction completed at Munich Airport
By Mike Hayes20 September 2021
Porr subsidiary Stump Spezialtiefbau ends three-year and 1.8km extension project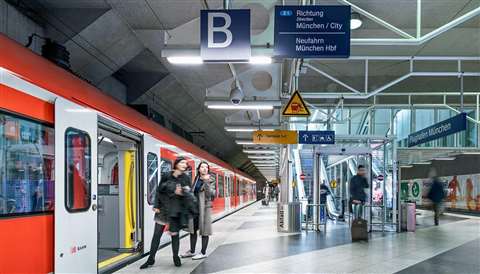 The shell of a 1.8km extension to the rail tunnel at Munich Airport has been completed by the Porr subsidiary Stump Spezialtiefbau.
Deutsche Bahan subsidiary DB Netz will now fit the tunnel shell with the equipment necessary to allow rail services to operate.
When completed, the tunnel will facilitate the running of regional trains between Freising and Erding and S-Bahn light rail services, via the airport's Terminal 2.
Munich Airport has so far invested €115 million in the construction work, the scope of which included a 1,500m tunnel extension and a 300m ramp structure to bring trains back to the surface.
According to the airport, some 390,000m3 of soil was excavated during the tunnel's construction, while 150,000m3 of concrete was installed, along with 16,000 tonnes of reinforcing steel.
The tunnel is expected to be in use towards the end of 2025.
Bavarian transport minister Kerstin Schreyer said, "The rail tunnel extension is a key project as part of upgrades to the airport station and subsequently completing the loop to Erding and southeastern Bavaria. The section as far as the Schwaigerloh sidings and turnaround area alone will make the S-Bahn and regional rail services more punctual, and we're creating capacity for more trains to the airport."
Bavarian finance minister Albert Füracker, who is also chairman of the Munich Airport Supervisory Board, said "The project takes the airport's ambitious climate targets into account. In addition to numerous specific measures around the airport, the improvements to the way that aviation and rail transportation interact will be another crucial part of cutting carbon emissions."