Recycling company adds Volvos
By Leila Steed06 January 2020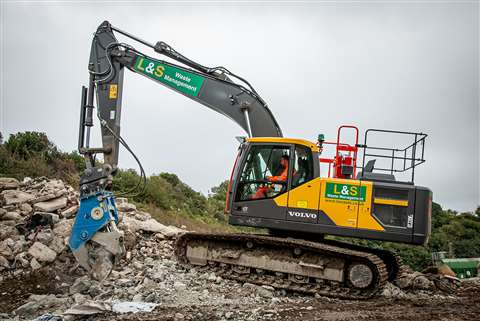 L&S Waste Management, which operates two recycling and processing plants in the United Kingdom, has acquired two new Volvo excavators.
The company took on an EC200E and the larger EC220E for its recycling and processing operations, after acquiring two EC140E models a year earlier.
Dominic Sales, L&S Waste Management transport and plant manager, said: "The two 14 t machines have proved to be very reliable and the support from SMT GB when required has been excellent, which has prompted us to opt for the larger machines for the Portsmouth facility."
L&S said the EC220E, which is powered by six-cylinder engine, is being used to load concrete, rubble and hardcore into a crusher and, when equipped with a hydraulic hammer and pulveriser, is also used to break up larger materials.
While the four-cylinder Stage V compliant EC200E is used for sorting incoming general industrial inert and construction and demolition waste.
Dominic said: "The larger six cylinder engine together with the optional two pump flow on the machine compared to the EC200E provides 330 litres of flow at 380 bar pressure which is sufficient to run the pulveriser, with plenty of reserve for operating the hammer."