Recycling with Rockster at Myrtle Beach
US construction company Titan Enterprises has been using equipment from Rockster Austria International to crush and screen concrete at its recycling centre in Myrtle Beach, South Carolina.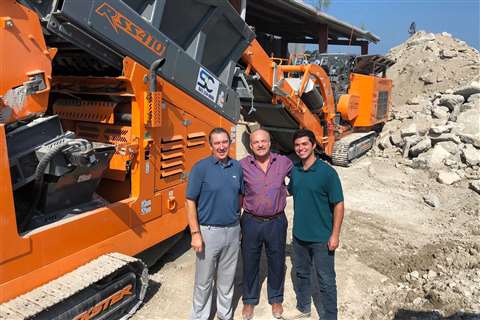 Together with its sister companies, Titan employs more than 130 people and the recently acquired site gives the company the opportunity to produce its own material from recycled concrete.
After testing several crushers in the 25 t range, the company opted for the Rockster R900 hydrostatic impact crusher.
With Titan also needing to produce three different fractions, the R900 has been teamed up with the RSS410 scalping screen, which at 15 t is said to combine robust design with easy transportation.
In combination, the two machines are producing 150 t of screened final product.
"Since the machines are very easy to transport and easy to handle, which are important factors in this business, we could also crush and screen right at the customer's job site," said Titan CEO Jack Pereira.
A longer version of this story, with additional photographs, will be published in the April-May 2020 issue of Demolition & Recycling International