Region Report: Europe: Holding up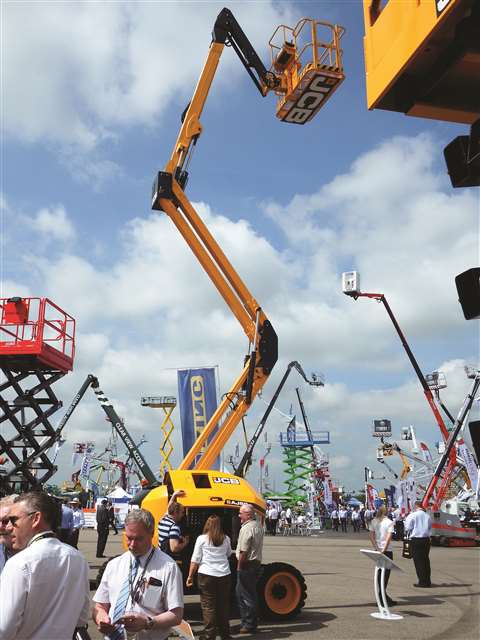 With the UK heading for Brexit and having just experienced a Hung Parliament in its 8 June general election - meaning no party received an overall majority to govern – there is plenty of uncertainty in the country.
That said, with this uncertainty leading to a weaker pound and a rise in inflation, confidence is still relatively high, particularly in the access industry.
It is just over a year since the UK voted to leave the European Union, with Article 50 – the official start to the two year leaving process – having been triggered by the UK government in March this year.
On this basis one might expect to find a relatively gloomy recent set of financial results and outlooks coming out of the UK.
Record revenue
Contrary to that, A-Plant, a major rental company in the UK, which bought Hewden's fleet of platforms when it went out of business last year - recorded revenues of £418.2 million (€473.99 million) for its last financial year, which ended 31 March – a rise of 14.6% compared to the previous year. A-Plant boasts 156 depots throughout the UK and makes up the remaining 14% of Ashtead's total revenues. Sunbelt in the US makes up the vast majority.
Geoff Drabble, Ashtead's CEO, said, "The reported results were impacted favourably by weaker sterling but, with 13% growth in group rental revenue at constant exchange rates, we have good momentum.
"Our end markets remain strong and, most importantly, we continue to see structural change as our customers increasingly rely on the flexibility of rental." He added that, looking forward, the company's markets remained healthy, and that Ashtead expected to see similar increases next year.
The UK's VP plc reported a record year for revenues and profits, with sales up 19% to £248.7 million and profits before tax and amortisation increasing 17% to £34.9 million.All of the company's four UK divisions – Hire Station, Groundforce/TPA, UK Forks and Torrent Trackside – reported good levels of demand from their customers, with sales up 17% at £220.0 million. The results are also for the year to 31 March 2017.
Jeremy Pilkington, chairman of Vp plc, said the company was delighted with the significant progress made during the year; "Looking ahead, the new financial year has started well and at this very early stage, I believe there is every prospect that we may look forward to another year of significant progress for Vp and our shareholders."
Rental majors
Remaining with the rental majors, Netherlands-based Boels moved into the UK for the first time with the acquisition of Supply UK Group, a nationwide tool hire business. It is one of the most significant recent acquisitions in Europe's rental market, signalling a first move into the UK by one of the fastest growing rental businesses in continental Europe.
Pierre Boels, managing director of Boels Rental, said, "The UK is the largest market for equipment and tool rental in Europe, so it was a natural step for us, having found the right team in Supply UK that shares our customer service ethos."
At Vertikal Days, the UK exhibition for access equipment and cranes in May, there was considerable confidence, although, as far as Brexit and its ramifications were concerned there was a level of wariness.
While rental rates are down on those seen years ago, there is the view that finance is cheaper and easier to get hold of.
And with the UK being the world's biggest access market there is no desire, at least, for it to move backwards.
While one view put forward, for example, during the show was that the 19ft scissor market in the UK is very populated, there is still a lot of growth potential for scissors overall.
The 40ft to 46ft height sector holds particular potential because buildings are getting taller
GMG, the new US-based manufacturer, was showing its first scissor products on its stand at the show. The 3m to 14m working height slab scissors are being produced by an existing manufacturer of those products in China, although its identity remains a closely guarded secret.
Nevertheless, they are reported to be state-of-the-art machines with electric drive.GMG is selling these units in the UK through Alan Russon, a longstanding member of the access industry with his own access equipment manufacturing company, particularly of low level push around equipment.
All the machines that arrive in Europe will be stored in a depot in Rotterdam, the Netherlands, with product support and service through a mobile team of vans, also directed out of there.
Over the next three months full product support will be provided in the UK, which will also stock scissors at the Birmingham-based facility.
Jim Tolle, GMG managing director, says, "People are interested if it's priced competitively. It is an advantage from a contractors' point of view because we are selling direct, with no distributors."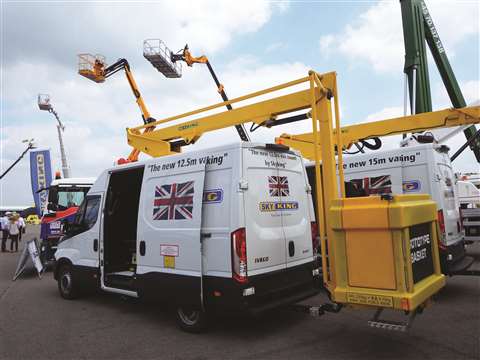 First customers
JCB Access was showing its first boom for the first time in Europe, since it was launched at ConExpo in Las Vegas in March. The 50ft (15.2 m) AJ50D made its European debut at Vertikal Days, where the manufacturer's first electric scissor was delivered, also in May. It went to dealer Scott JCB, based in Glasgow, Scotland.
According to the manufacturer a substantial number of scissor orders have now been received in the UK - JCB Access showed its range of slab scissors at the beginning of February at the manufacturer's launch event at its UK headquarters.
In the main, those orders are coming from smaller and medium-sized rental companies, while the big companies are waiting to see how they play in the market. Although, as JCB Access sales director Phil Graysmark says, the expectation is the big players will naturally follow suit thanks to good feedback so far from current customers.
Steve Couling, managing director of Access Platform Sales (APS), The UK's biggest distributor, says his products and the UK are also "flying, against all odds".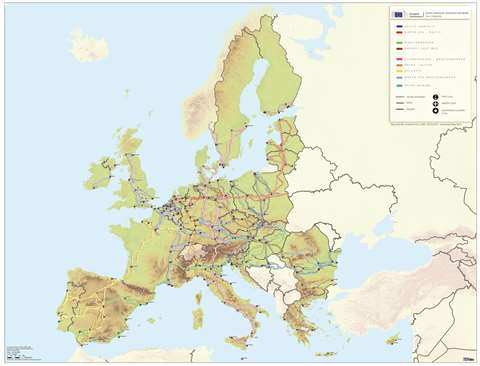 The company represents a number of manufacturers, with Genie and Hinowa machines representing 75% if its sales. Concerning Hinowa's tracked machines, a big order recently came from Nationwide Platforms, the UK's biggest access rental company, which took 56 units.
"The general election, Brexit and exchange rates are difficult but we are doing very well.
"In the month before the Brexit vote last June we saw a decline in orders, and then a little bit following that. But it bounced back very strongly. The attitude is, 'we have to carry on with business'. People are bit more cautious but are still spending," says Mr Couling.
And, while some are feeling the pinch with the week pound, others are benefitting. One of those is UK-based manufacturer Niftylift.
The company's dealer Plosiny Rybacek recently handed over two units to Sico Rent, the Czech Republic's biggest access rental company, with a fleet of 450 units.
The units were HR17NE and HR21 Hybrid AWD articulated booms. The HR17NE is a battery powered 17m working height, narrow aisle boom and the HR21 Hybrid AWD, a 21m working height, all-wheel-drive boom that incorporates Niftylift's Hybrid power system.
Jim Craddock of Niftylift notes that Plosiny Rybacek has had a very good sales launch to 2017, with the value the of the pound also helping to make Niftylift machines more competitive and appealing to both dealers and rental companies.
Safety leader
Apart from anything else, the UK is a world leader when it comes to safety standards and is one many countries around the world use as a benchmark. An example comes from the new Mobile Elevating Work Platform safety guidance jointly drafted by the International Powered Access Federation (IPAF) and Construction Plant-hire Association (CPA) and endorsed by the UK Health and Safety Executive (HSE).
The guidance was first released at Vertikal Days and has been developed for the Strategic Forum for Construction – Plant Safety Group.
It is described as an essential reference document for all those who have any management or supervisory responsibility for the safe condition of a MEWP.
There are three key elements to ensure MEWPs are kept in a safe operating condition, according to the guidance, those being: Inspection, Maintenance and Thorough Examination, and the guidance outlines why these should be given equal emphasis to ensure the safest possible working practice when operating MEWPs..
Tim Whiteman, CEO of IPAF, said, "At IPAF we always prioritise safety, and we hope this new guidance on the need for a robust inspection, maintenance and thorough examination regime will aid all rental companies and operators and ensure the equipment they are using is fit for purpose and won't let them down on the job, which can of course have disastrous consequences.
"We will of course continue to publicise and promote this guidance document as part of IPAF's ongoing drive to improve safety and reduce accidents and fatalities, in conjunction with both the Construction Plant-hire Association and the HSE."