Remote control roof removal
By Lindsay Gale12 March 2008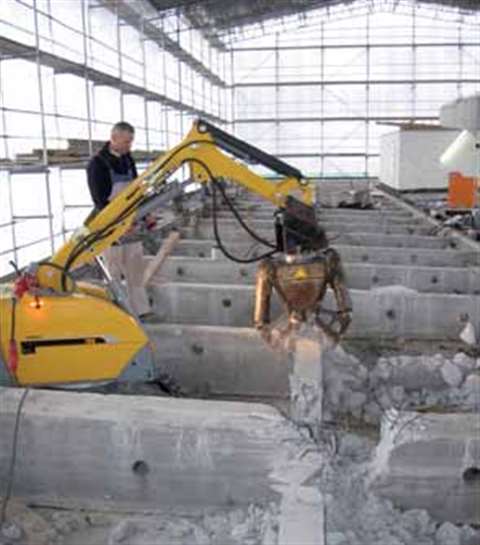 A lack of space at the Ketherinenhospitalin Stuttgart, Germany, led to an expansion plan that included an additional storey but to achieve this, the existing roof had to be removed. Since the hospital had to remain in use while the building works were carried out, a means to remove the existing reinforced concrete structure had to be found that would not interfere with daily hospital operations resulting from noise, vibration and debris.
But the contractor, Storz, based in Sindelfingen, had a problem. Initially, diamond cutting was considered, but the collection of cooling water and the disposal of sludge would have been difficult, as well as being time-consuming and therefore more expensive. Demolition by hand was out, due to the strength of the steel reinforcement in the concrete beams. Added to this was the limited load bearing capability of the beams themselves.
The solution was to use a Brokk 180 demolition robot fitted with a Darda CC 420 concrete crusher. The Brock 180 weighs in at 1,900 kg (4,180 lb) while the tool itself only weighs 240 kg (528 lb).
The roof was encased in a scaffold structure, after which the roof was removed to expose the concrete structure. The CC420 cracked the beams at their corner points, with the resulting debris being lifted off using a crane. This resulted in minimum disruption to the ongoing treatments in the hospital. The entire job, which would have take four weeks by hand, was completed in the space of a single working week.