Robotic 'dog' unleashed for construction industry
By Andy Brown21 November 2019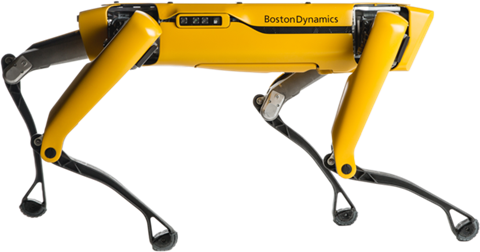 Technology company Boston Dynamics has announced that it is working with several companies to allow its Spot robot 'dog' to perform automated tasks on construction sites.
According to reports, Trimble and Hilti also plan to integrate construction management software solutions, Global Navigation Satellite System (GNSS) technology and reality capture devices with the Spot platform.
"Utilising robots for routine tasks in hazardous environments to improve safety, efficiency, and data capture consistency is part of our digital transformation vision," says Aviad Almagor, senior director for Mixed Reality and Brain-Computer Interface, Trimble.
"We are excited for this latest collaboration and looking forward to the integration of our hardware and software solutions with the Boston Dynamics' Spot Robot to enhance field-oriented workflows, reduce amount of rework, and facilitate on-site tasks."
The company HoloBuilder has already released a product integration app that works with Spot to provide reality capture of construction sites. Artificial Intelligence is then used to process the data, so that the site's progress can be tracked.
HoloBuilder and construction firm Hensel Phelps ran pilot tests earlier this year at San Francisco International Airport's Harvey Milk Terminal 1 with Spot. The robotic dog performed site surveying that a human engineer would normally have to do with handheld cameras.
Spot is first controlled around a construction site by remote operation, but once that has taken place the robot has a digital map and is able to navigate itself in the future.
To read about the latest research and development taking place by original equipment manufacturers, click here.