SC&RA recognizes members through awards program
2021 SC&RA Member Awards spotlight safety and determination.
Each year, SC&RA recognizes outstanding achievements by both member companies and individuals for the complicated and often awe-inspiring work they do to collectively lift and move the world.
The Association's internationally recognized awards program showcases just how much SC&RA members value safety, ingenuity, perseverance and altruism. Annual awards fall within the categories of Crane & Rigging, Transportation, Industry and Longevity, and are presented at the SC&RA Annual Conference, with the exception of the Crane & Rigging Project Safety and Crane Rental Service Awards, which are awarded each month.
To that end, the highly anticipated Job of the Year awards are also presented at the Annual Conference – set this year for October 25-29 in San Antonio, Texas – and application submissions are still running through August 17, 2021.
Given the modified 2021 Annual Conference date, SC&RA members will have to wait a little longer this year to find out who wins a Job of the Year, but the remaining annual awards have been announced, and like every year, the list is represented by member companies who consider safety, industry responsibility and Association membership an integral part of operational success.
Driving culture
Seventeen member companies received a 2021 Crane & Rigging Zero Accidents Award for having no recordable accidents. CJ Drilling Inc., out of Dundee, Ill., was one of them.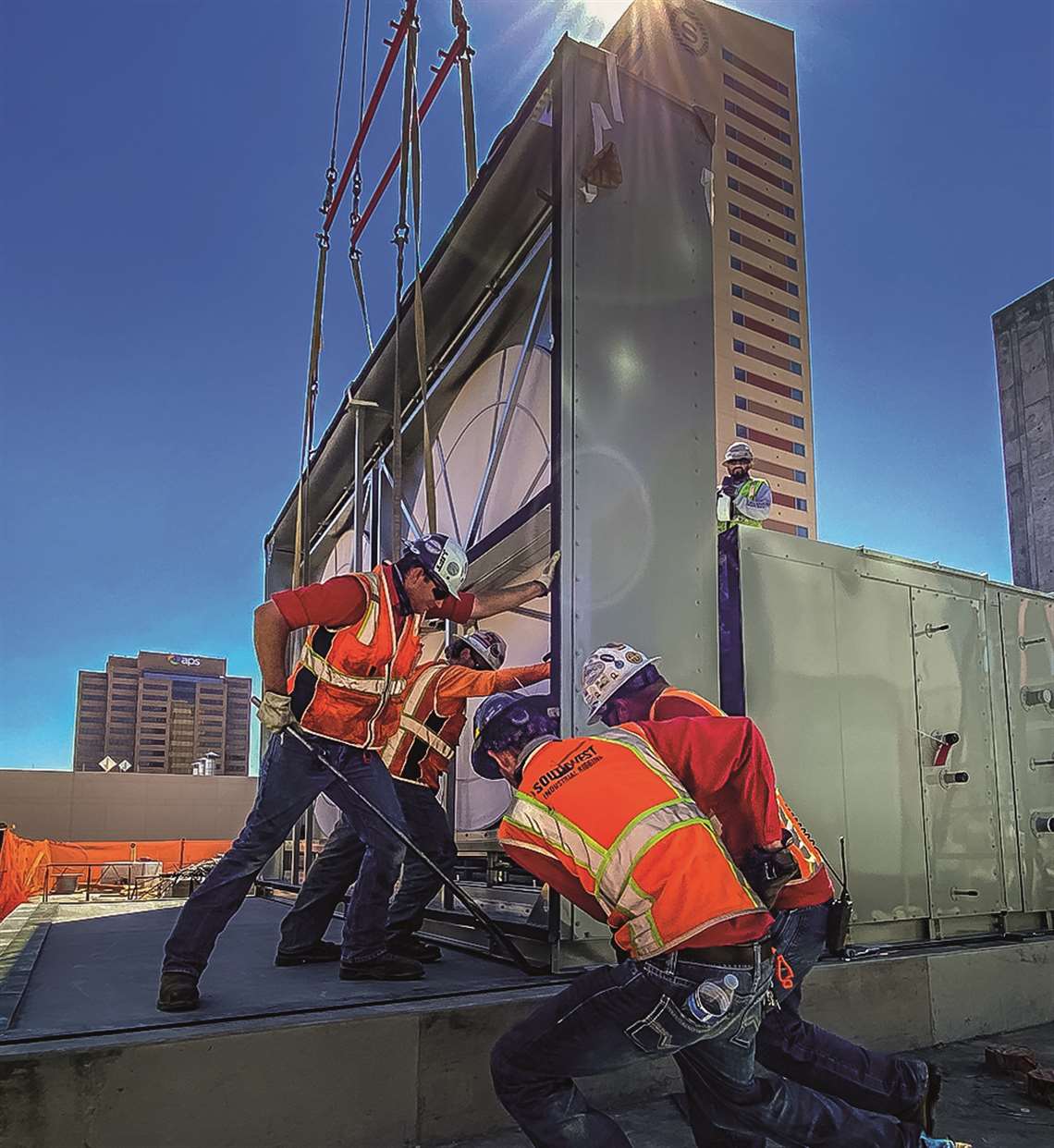 Marty Mohr, of CJ Drilling, which also won a Crane & Rigging Safety Award, explained that safety success for his staff doesn't come by accident.
"The proof is in the pudding. By implementing our multiple leading indicators, such as weekly safety meetings, a drug-free workplace, orientation and training, claims management, incident investigation, safety auditing and employee safety discipline, we've enjoyed the benefits in our lagging indicators – continually lowered EMR and OSHA recordable rates."
Including CJ Drilling, 28 SC&RA member companies received a Crane & Rigging Safety Award this year for their superior safety records, achieving an incident rate of less than or equal to 2.1 plus an Experience Modification Rate (EMR) of 1.0 or less. Deep South Crane and Rigging, LLC, of Baton Rouge, La., was among this group.
But Deep South didn't stop there. Joined by three other member companies, the organization collected a Crane & Rigging Safety Improvement award, for reducing their incident rate compared to the previous year's contest entry, and additionally picked up awards for Crane Operator Safety, Rigger Safety, Driver Safety and Longevity.
Deep South's Louise Landry indicated that the company's focus on the value of safety for each individual has resulted in an equal response from their workforce. "That response shows us that they, too, have a commitment to being their 'brother's (or sister's) keeper.'
Landry also pointed out that Deep South started a campaign in 2017 called "What's Your Why?" – which asks each member of their workforce why they work safely.
"The campaign is ongoing, and we feel that employees' answers to the question help to drive our safety culture throughout the company," she noted.
Consistency being another theme for Deep South, the company's Longevity Award is for 30 years of SC&RA membership.
Including Deep South, 54 individuals, representing 12 member companies, received Crane Operator Safety Awards – presented to certified crane operators who exhibit exemplary work achievements by accumulating 10,000 consecutive man-hours and, within that time, record zero incidents or accidents.
And new in 2021, 18 individuals representing eight member companies earned a Rigger Safety Award – given to riggers who exhibit exemplary work achievements.
Matcom Industrial Installations employee, Tony Lamanna, was one of the award winners. Said Matcom President, Matt Rix, "Tony has been with the company for over thirty years and is a revered employee. His hard work and dedication reflect his character. At Matcom, safety is our top priority. We continuously strive for a zero-incident workplace, and the Matcom family is proud to have a team member with this first prestigious award!"
More than just words
Eleven SC&RA member companies received a 2021 Transportation Zero Accidents Award for having no recordable accidents. Marco Transport, Inc., of Santa Ana, Calif., was included. Marco's Kevin Reese attributed some of this success to a company-wide examination that took place in 2019.
"We sat down as a company and took a hard look at ways to improve and reduce loss and insurance cost," he said. "Right out of the gate, we focused on the concept of 'zero incidents and accidents.' We held a company-wide meeting where we discussed what losses looked like, how they impact our organization and discussed steps towards accident and incident prevention to improve overall performance."
Reese gave credit to Marco Transport's workforce for the award. "They are the ones out there daily in traffic, construction zones, tight areas and dealing with the public. We understand that not all things go perfect all the time, but it's how you handle the abnormal that helps you succeed. Getting recognized for being safe and doing a great job means a lot for the group. It provides validation to our staff for the hard work that goes into it."
Marco Transport also received an SC&RA Fleet Safety Improvement Award, along with five other member companies, by showing a reduction in their accident frequency rate for miles traveled, compared to their previous year accident frequency rate.
Additionally, five SC&RA member companies received a Transportation Fleet Mileage Category Award for having the lowest accident frequency rate in different mileage categories. Jetco Delivery, out of Houston, Texas, was one of them.
Also, a recipient of a Zero Accidents and a Driver Safety Award, Jetco's Fleet Mileage recognition came in the 5 million to 20 million miles category. Two members of the Jetco team responsible for some of these miles were Stefan "Dewayne" Mullins and Darrell Wheeler.
Mullins observed, "Transportation safety is more than just words. As I travel the highways and byways, I pass a lot of unknown faces. All these people have families. So, I have to do my part as a professional driver – so they can make it home to their loved ones."
Wheeler added, "Safety has to be a way of life, and it's up to each and every one of us to truly implement it. Jetco's safety culture is outstanding, which makes it easier for me to focus on doing what I do best and identifying unsafe situations, while acting on them in a professional manner."
This year, one professional driver from an SC&RA member company was recognized with the Million Miler Safety Award, which recognizes drivers who have accumulated a minimum of one million consecutive miles of safe driving within the industry. That driver was Gary Veach, representing Landstar Transportation Logistics, Inc., Jacksonville, Fla. He will be recognized at this month's SC&RA Specialized Transportation Symposium, set for June 22-24, in Birmingham, Alabama.
Additionally, SC&RA awarded 19 individuals representing eight member companies with a Driver Safety Award – for accumulating five years of accident-free driving.
Mutual benefit
Also in 2021, 72 companies were presented Longevity Awards for their continuous membership in SC&RA, and three members were presented with the SC&RA President's Award, given to companies whose employees recruit three or more new members during the year.
Receiving the President's award were Landstar Transportation, Inc.; NessCampell Crane + Rigging, Portland, Ore.; and Precision Specialized Inc., Burford, Ontario, Canada.
Jonelle Anderson, of NessCampbell – which also won Rigger Safety and Crane Operator Safety Awards – acknowledged that the organization takes recruitment very seriously.
"From the smallest family owned companies to the permitting company just down the road, we feel that it's our duty to inform people on how they can benefit from both our industry and SC&RA. It's our pleasure, and for that reason, it's an honor to receive such an award for recruitment."
To view lists of the 2021 SC&RA Award Winners in full, visit www.scranet.org, hover over the News tab, and then click

on Press Releases.