SECH starts on harbour project
By Alex Dahm08 January 2020
A new 350 tonne capacity crawler crane has been put to work on a project to expand Portsmouth Harbour in the UK.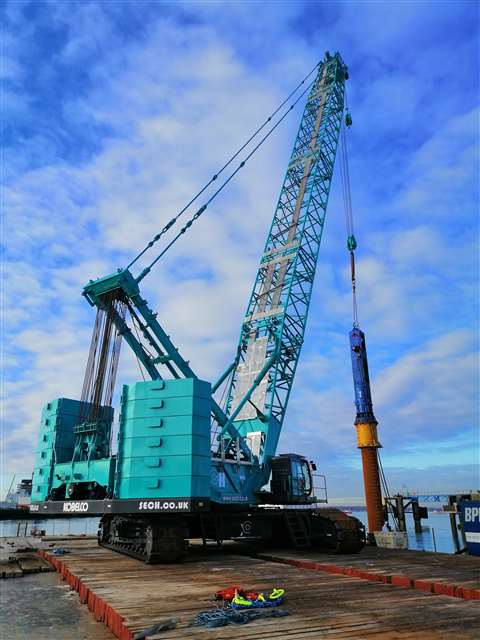 Specialist rental company SECH is using its Kobelco CKE3000G crawler crane on its first major lifting and foundations contract in Portsmouth Harbour, having arrived at the site by barge in November. It is the largest Kobelco CKE series crawler working in Europe, the Japanese manufacturer said.
The Knights Brown project is a £19 million (US$ 25 million) investment in cruise and ferry facilities, including increasing the length of the cruise berth to accommodate ships up to 255 metres long. Bigger ships and more of them will help the port achieve its ambition of tripling the number of cruise passengers using the port.
Matt Cox, SECH managing director, said, "This first major contract highlights the CKE3000G's excellent drum and slewing speeds, making it a very nimble crane for its size. It's also a very solid, well-engineered machine, which makes it ideal for tunnelling, foundation and marine work, and I look forward to being able to take on yet more new and interesting work across the UK."
Transport to site from the SECH yard in Essex, south east England, was on eight low loaders, with the first four taking the base machine, two crawler frames and carbody counterweight to Southampton docks on the south coast. After assembling the components with the help of a yard crane, the crane was driven onto a barge.
When the jib sections and counterweights arrived the crane's own rigging was used to complete the assembly. After a four hour tow to Portsmouth the crane was put straight to work.
It lifted a BSP CG300 hydraulic pile driving hammer, which has a drop weight of 20 tonnes, a 16-tonne shroud and a maximum impact weight of 300 tonnes. The CG300 is driving 21 piles, up to 33 metres long and 1.2 metres in diameter, into the seabed. Up to 14 metres of the pile will sit below water, with 3 metres out of the water line and 16 metres into the seabed.