Safelift's new Abu Dhabi location
By Leila Steed11 July 2019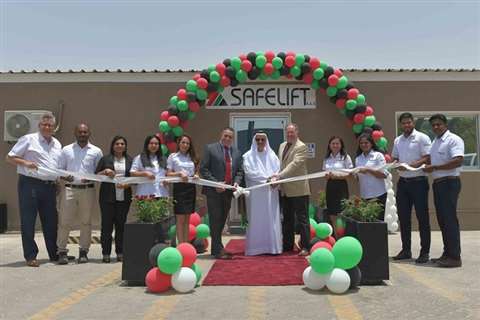 Powered access rental company Safelift has opened a new facility in Abu Dhabi, United Arab Emirates.
Located in Abu Dhabi, the new 3,250 square metre facility will comprise offices, a 930 square metre workshop, parts warehouse and yard facilities.
Dr Ali Saeed Al Ameri, chairman of Al Shoumoukh Group, Safelift's UAE sponsor, said, "Safelift is a successful enterprise that has grown consistently over the years. We started with 12 machines that arrived in our first container and since then the company has expanded to a fleet of several hundred machines now. It is one of the most successful ventures in the Al Shoumoukh group of companies."
The company said its new location would offer a mixture of diesel and electric scissors, booms and low-level equipment of up to 5m.
Wayne Taylor, Safelift managing director, said, "We've outgrown our last premises and when we saw this one, we thought it lends itself very well to our business and we can expand into this. Being in the middle of the petroleum sector here in the M15 area of Mussafah, we are also near prospective oil & gas customers – a sector we are increasingly looking to target," said Taylor.
The company's Abu Dhabi facility will also offer PASMA, IPAF and other specialist training.