Winner Budget Demolition
Country Canada
Also shortlisted
Brandenburg Industrial Service Co (USA)
Grupo Mitre (Argentina)
Priestly Demolition (Canada)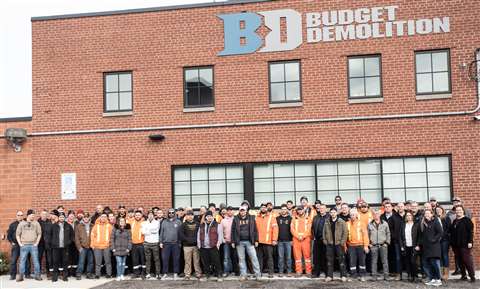 The first half of the awards had taken place between two conference presentations, by Angus Holdsworth of Andun Consultants and then Bartek Kogutowski of Delta Group jointly with Roland Alford of Alford Technologies.
The second part of the event followed the same path, with James Milburn getting us underway with a presentation of his company Milburn Demolition's project at Oakmont Point in the USA.
The awards announcement that followed also had a North American theme, with Budget Demolition taking the Safety and Training category.
Budget's win, announced by Gordon Hambach, managing director of awards category sponsor Epiroc, showed the value of long-term planning.
Budget's Wil Bartels said the company had developed its safety programme after listening to Aecom's Tim Barker at the World Demolition Summit in Miami four years earlier. After being shortlisted in 2018 and 2019, it could now celebrate the recognition of its industry peers.
"We have been working very hard on this for four years," said Wil.
"We were very inspired by Tim and we went on this journey to see where health and safety could bring us as a company."