Sales down 14% for Volvo CE
By Andy Brown17 July 2020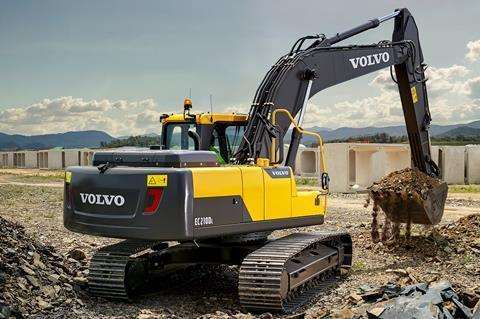 Volvo Construction Equipment (Volvo CE) has announced that sales in the second quarter of 2020 declined by 14% compared to the same quarter in 2019 due to the continuing impact of Covid-19.
Volvo CE said that weak demand in Europe and North America was partially offset by a strong rebound in the Chinese market, the world's largest for construction equipment sales. Despite lower demand impacting sales, profitability held up well during the period.
Adjusted net sales in the second quarter decreased by 14%, amounting to SEK22.8 billion (US$2.5 billion) compared to SEK26.8 billion (US$2.9 billion) in the same quarter last year.
Operating income was also impacted, equating to an operating margin of 13.6% compared to 15.5% in the same quarter last year.
Despite the impact of the pandemic on sales, the second quarter of 2020 saw order intake increase by 11%, driven by a strong demand for the company's SDLG branded machines, which were up by 31%.
Even though most factories in Europe and the Americas were shut down for a month during the second quarter of the year due to lockdowns caused by Covid-19, deliveries increased by 8%.
The second quarter for 2020 saw sales significantly decline in Europe and North America – both of these markets dropped, in unit terms, by 22%. Africa and Oceania saw a steep decline and the Asian market (excluding China), was down by 21%.
Some markets did see growth though, with China up 13% and the South American market also in positive territory, up by 8% compared to the same point last year.
"While demand for construction equipment in both Europe and North America was weak during the second quarter we were able to leverage our strong position in China, which rebounded strongly in the period," commented Melker Jernberg, Head of Volvo CE.
"This is allowing us to act from a position of relative strength and to drive transformational technologies that are moving our industry to more sustainable solutions. We are continuing to invest in electrification, automation and connectivity."
The table shows Volvo CE net sales by market area, in Millions of Swedish Krona (SEK).
Net sales by market area
Second quarter
First six months

SEK M

2020

2019

2020

2019

Europe

5,254

8,788

11,731

16,881

North America

3,527

5,621

7,237

10,547

South America

422

666

981

1,212

Asia

12,928

10,485

21,331

19,864

Africa & Oceania

746

1,253

1,744

2,464

Total

22,876

26,814

43,023

50,968